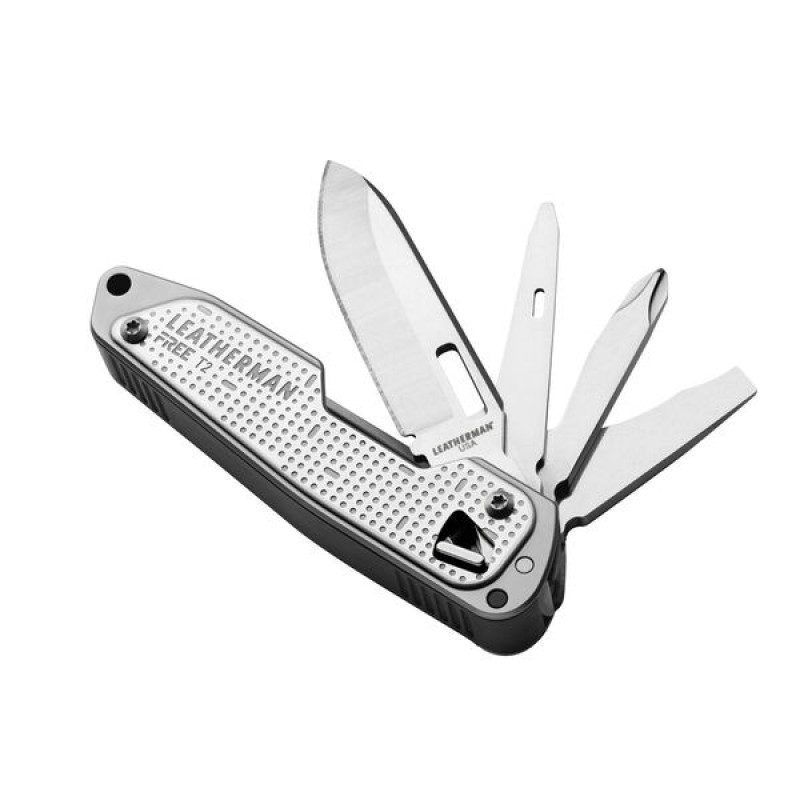 About Leatherman Free T2 8-In-1 Multifunction Tool Stailnless Steel

TOOLS INCLUDED
01 420HC Knife
02 Awl
03 Bottle Opener
04 Pry Tool
05 Package Opener
06 Phillips Screwdriver
07 Medium Screwdriver
08 Extra-small Screwdriver
FEATURES
01. Made in the USA
We build and manufacture all of our tools in Portland, Oregon.
02. One-hand Operable Features
Every feature on this tool can be opened and operated with one hand. This enables the user to keep the other hand free for situations that require multi-tasking or a free hand.
03. All Locking Features
All locking features means that every tool and knife on the body of the handle, with the exception of the plier head, will lock into place. The all locking design enables the user to operate individual tools safely and effectively. By locking them into place when fully open, the user can put pressure on the implement while safely completing the job, before manually unlocking the tool to stow it away.
04. Magnetic Opening & Closing
Leatherman FREE's revolutionary magnetic locking system allows smooth, quick access to tools, letting you work with speed and confidence for years.
05. Frustration Free Tool Access
Every feature of FREE is accessible on the outside, allowing you to easily open tools with one hand.
Specs
Closed Length: 3.6 in | 9.3 cm
Blade Length: 2.2 in | 5.6 cm
Weight: 3.3 oz | 93.6 g
Width: .96 in | 2.4 cm
Height: .96 in | 2.4 cm
Overall Thickness: .62 in | 1.6 cm
Materials
420HC Stainless Steel, Glass-filled Nylon
Details
The most compact offering in the FREE™ family, the T2 is small but mighty. At just 3.3 ounces, it fits easily in your pocket or purse, but punches well above its weight when it comes to performance. Packing eight total tools and integrated FREE™ technology, the T2 redefines approachability. Compatible pocket clip sold separately. Designed and built in Portland, Oregon
About Leatherman Brand
Leatherman is an American brand of multitools and knives made by Leatherman Tool Group of Portland, Oregon. The company was founded in July 1983 by Timothy S. Leatherman and Steve Berliner in order to market his idea of a capable, easily portable hand tool with multiple functions.
Leatherman Free T2 8-In-1 Multifunction Tool Stailnless Steel