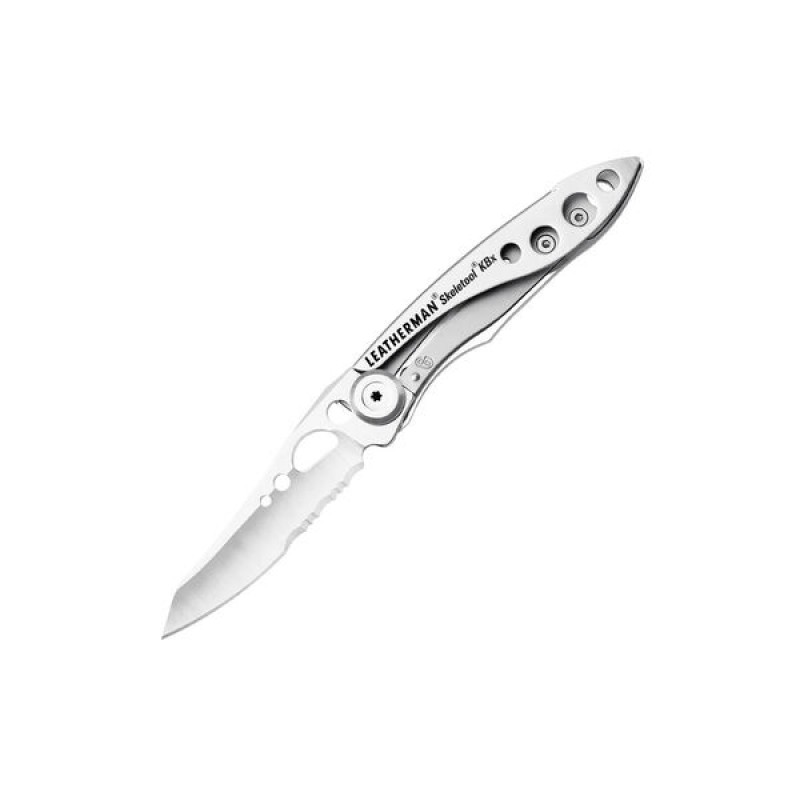 About Leatherman KBX 2-In-1 Skeletool Stainless Steel
TOOLS INCLUDED
01 420HC Combo Knife
02 Bottle Openera
FEATURES
01 Locking Blade
A knife blade that locks into place when fully deployed. A user must manually unlock the blade to fold it away, which allows for a much safer user experience.
02 Replaceable Pocket Clip
A removable clip which allows the user to wear their multi-tool attached to a pocket or belt loop without the use of a sheath. By removing the clip, the user is able to easily carry their tool in a sheath if preferred.
Specs
Closed Length: 3.45 in | 8.77 cm
Open Length: 5.87 in | 14.9 cm
Blade Length: 2.6 in | 6.6 cm
Weight: 1.3 oz | 36.85 g
Width: .8 in | 2.0 cm
Overall Thickness: .30 in | .76 cm
Materials
420HC Stainless Steel, Type II Anodized Aluminum
Details
The Sketetool KBx comes with a versatile combo knife blade that's great for heavy-duty work or for quick, everyday uses. The built-in bottle opener on the clip is handy too. Choose from three colors to pick the right one for you. Sheath sold separately.
About Leatherman Brand
Leatherman is an American brand of multitools and knives made by Leatherman Tool Group of Portland, Oregon. The company was founded in July 1983 by Timothy S. Leatherman and Steve Berliner in order to market his idea of a capable, easily portable hand tool with multiple functions.
Leatherman KBX 2-In-1 Skeletool Stainless Steel