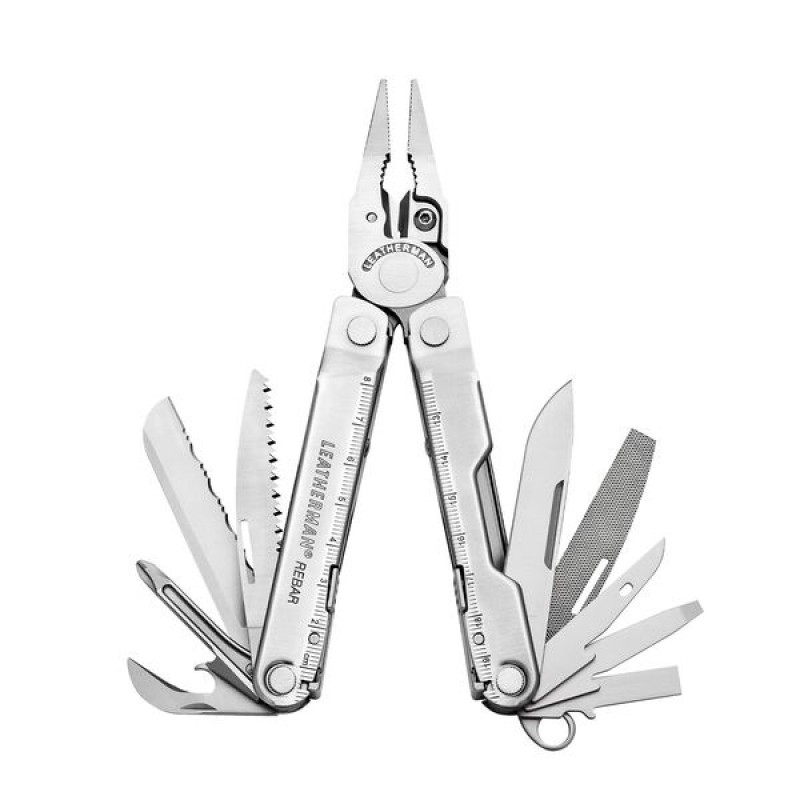 About Leatherman Rebar 17-in-1 Stainless Steel


TOOLS INCLUDED
01 Needlenose Pliers
02 Regular Pliers
03 Premium Replaceable Wire Cutters
04 Premium Replaceable Hard-wire Cutters
05 Electrical Crimper
06 Wire Stripper
07 420HC Knife
08 420HC Serrated Knife
09 Saw
10 Awl w/ Thread Loop
11 Ruler (8 in | 19 cm)
12 Can Opener
13 Bottle Opener
14 Wood/Metal File
15 Phillips Screwdriver
16 Large Screwdriver
17 Small Screwdriver
FEATURES
01 All Locking Features
All locking features means that every tool and knife on the body of the handle, with the exception of the plier head, will lock into place. The all locking design enables the user to operate individual tools safely and effectively. By locking them into place when fully open, the user can put pressure on the implement while safely completing the job, before manually unlocking the tool to stow it away.
02 Lanyard Ring
This secure ring is for attaching the tool safely and securely to a lanyard. Often people who work near water or on scaffolding attach their tool to a lanyard on their person to avoid losing the tool if it's dropped.
Specs
Closed Length 4 in | 10.16 cm
Open Length: 6.25 in | 15.87 cm
Primary Blade Length: 2.9 in | 7.36 cm
Weight: 6.7 oz | 189.94 g
Width: 1.18 in | 2.99 cm
Overall Thickness: .65 in | 1.67 cm
Materials
420HC Stainless Steel, 154CM Stainless Steel, Black Oxide
Details
With the Rebar, Leatherman fans will immediately recognize the iconic box-like shape found in Tim Leatherman's original PST design. The Rebar pliers have been optimized for strength and feature replaceable wire/hard-wire cutters—a first for a four-inch tool from Leatherman. With all the features to get even the toughest jobs done, in a smaller, slimmer size, the Rebar is sure to be an instant hit on job sites and home projects the world over.
About Leatherman Brand
Leatherman is an American brand of multitools and knives made by Leatherman Tool Group of Portland, Oregon. The company was founded in July 1983 by Timothy S. Leatherman and Steve Berliner in order to market his idea of a capable, easily portable hand tool with multiple functions.
Leatherman Rebar 17-In-1 Multitool Stainless Steel