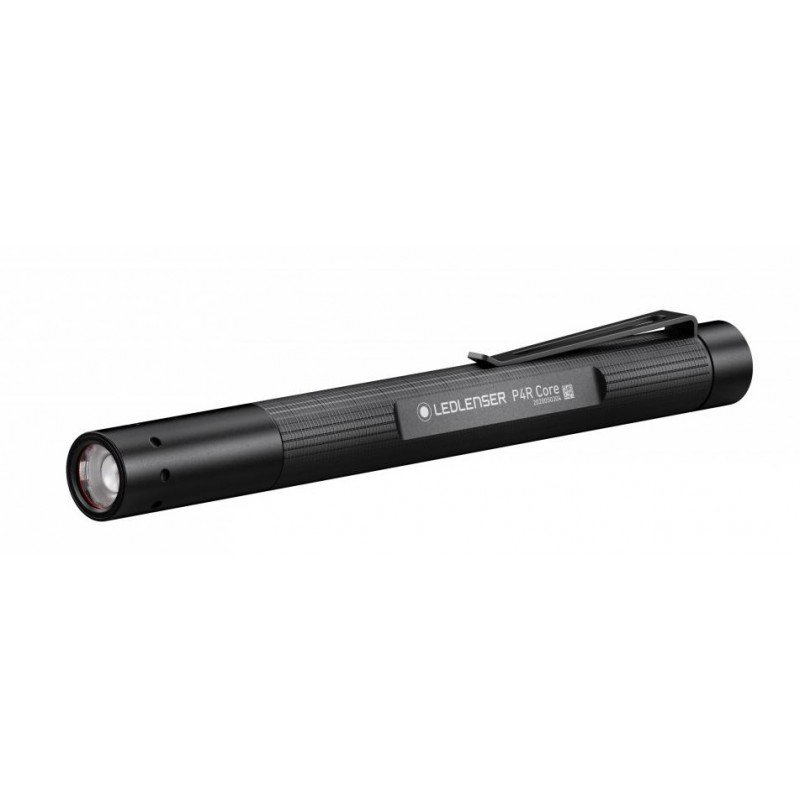 About LED Lenser P4R Core Rechargeable Flash Light Black
Brightness and longevity are very important with this pen light. The P4R Core shines for its size with a superior light output of 200 lumens and has a removable rechargeable battery with micro-USB interface for eco-friendly charging. It offers a slim, lightweight design with Endcap Switch and pocket clip. The Ledlenser patented3 Advanced Focus System also provides precise light in spot and flood.
Small, lightweight, powerful pen light – 55 g light (incl. battery), 150 mm long (defocused), up to 200 lm bright
Outstanding Ledlenser light quality brightness, beam range and run time are ideally matched to the energy source
Advanced Focus System for efficient, precise flood and spot lighting
Practical clip to attach to shirt or trouser pocket
Eco-friendly, rechargeable battery (via micro-USB port)
Specifications :
LED :
LED Configuration : 1 x LED
Color Rendering Index : 70 CRI
Color Temperature : K - K
Battery :
Type2 : 10900 USB direct charging battery 3.7V
Loading time : 150 min
Casing :
Head material : Aluminum alloy
Headband material : None
Case material : N/A
Head diameter : 15 mm
Length : 154 mm
Tightness : IP54
About LED Lenser Brand
Discover the enlightening story of the Ledlenser brand – from its beginnings in the 1990s to today's international company.As a leading international brand of hand-held torches and head lamps, LED Lenser is renowned for superior German engineering, outstanding performance, and state-of-the art technologies, such as the patented Advanced Focus System and Smart Light Technology. Constantly driving innovation to provide class- leading lighting instruments, LED Lenser is the brand of choice for professional tradesmen, emergency services personnel, search and rescue teams and serious outdoor enthusiasts. LED Lenser hand torches and head lamps deliver breath-taking, bright homogenous white light that turns night into day and simply has to be seen to be believed. Using only the finest materials, such as energy-efficient CREE LED light chips, aircraft-grade aluminium and gold-plated contacts, they are renowned for quality and have a reputation for reliability that is second to none.
LED Lenser P4R Core Rechargeable Flash Light Black