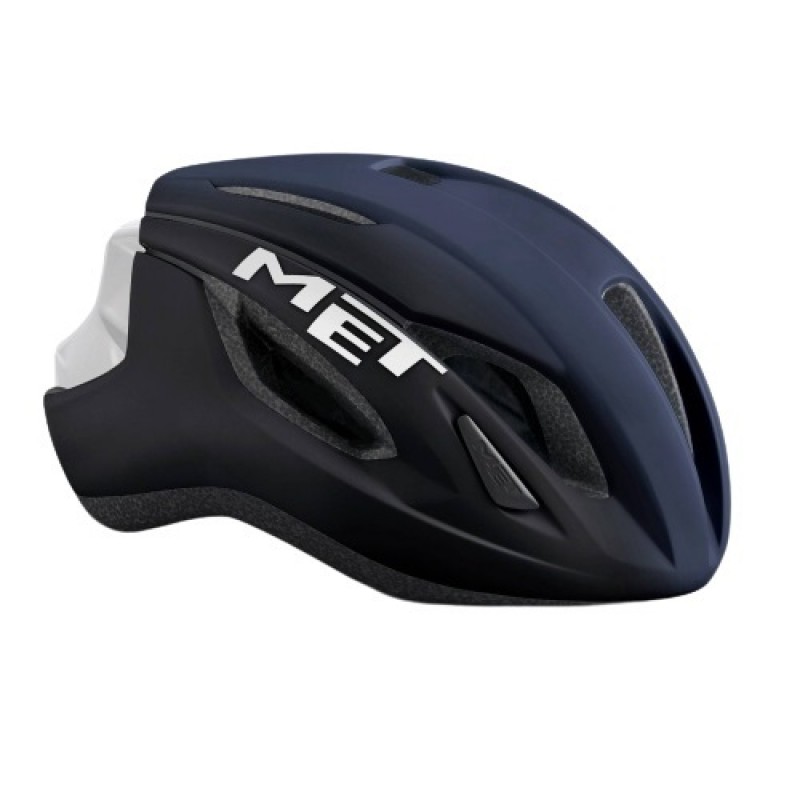 About MET Strale Road Cycling Helmet Shaded Deep Blue White Matt Glossy 2019
CHANNEL THE WIND
The MET Strale's exceptional air channeling system design features a large central vent that takes in cool air, along with side channels, maximizing overall ventilation.
Thanks to the Venturi effect, hot air exits through the back exhausting vents, pushing it away from the rider.
All of this while maintaining impressive aerodynamics, on a road helmet offering great value for the money in an exceptionally safe and innovative design.
SAFE-T DUO FIT SYSTEM
All-round belt offers 360° adjustment
2 positions for vertical adjustment
Ponytail compatible
Comfort soft padding
MET DUO light compatible
Specification
Outer shell construction

In-Mould

Inner shell

Shock absorbing polystyrene

Chin strap buckle

Anti-pinch buckle

Straps and Divider

Anti-slip cam divider

Fit system

Safe-T Duo. Ponytail compatible

Comfort

Anti-allergenic interior padding. Hand washable

Be seen

Reflective rear stickers

Compatibility

Duo LED light

Certifications

CE, AS/NZ, US

Weight

M

L

CE

255 gr

290 gr
About Helmets
It's not advisable to ride without a protection gear especially a head gear. It could save your life in case you're involved in an accident. Cycling helmets available these are categorized as road helmets, MTB helmets, aero helmets(for time trials and racing events). They're manufactured to be lightweight yet robust, with enough vents for breathability and adjustable nylon straps to adjust according to your comfort zone.
About MET
Founded in 1987, MET insists on quality. The most visible expression of this care is the legendary durability and inimitable style of all the helmets. Whether they are products for the highest level of competition, for leisure or for children, all MET helmets benefit from the same high standard of care and design. All MET helmets are designed, developed and manufactured in Italy, at Talamona, in the heart of the Italian Alps. It's no coincidence that the MET brand has always been associated with the values that define its Alpine heritage: efficiency, attention to detail, performance, a refined aesthetic and sustainable development. Their Italian roots are evident in all what they do.
MET Strale Road Cycling Helmet Shaded Deep Blue White Matt Glossy 2019