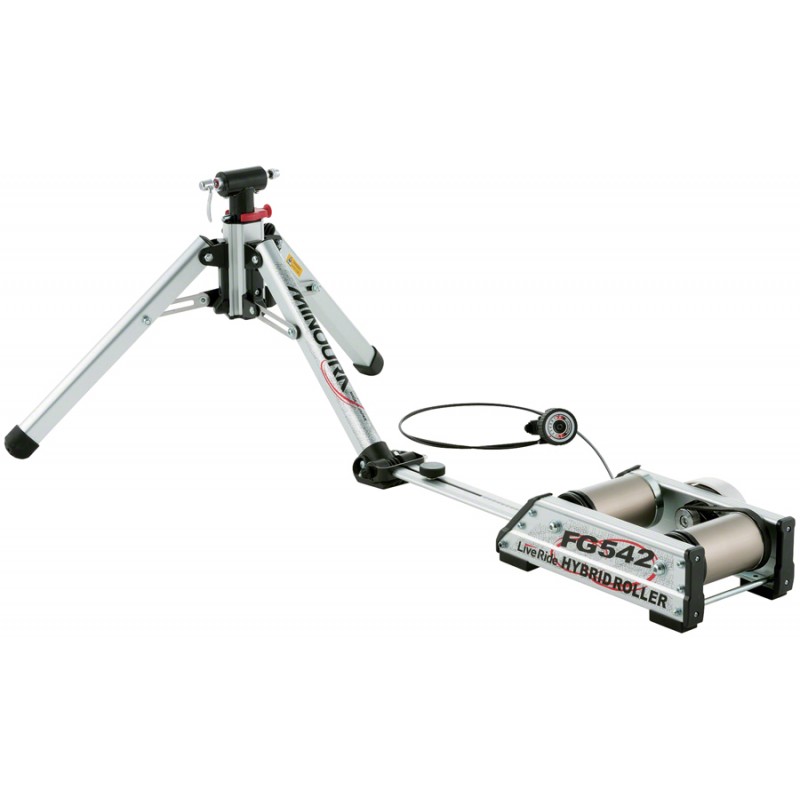 About Minoura FG-542 Bicycle Hybrid Roller/Trainer
Features :
Easily mount Road/ MTB/ CX/ Mini Velo by the front fork.
(Wheel base capacity : 950mm – 1,200mm)
9mm and 15mm through axle compatible.
Height adjustable (0%/3%/6%/8%/10% slope image) front fork mount.
Double high precision 79mm diameter rollers spin quietly and reduce tire wear.
Front fork mount features a urethane insert to emulate real road feel.
Newly designed 7 level mag resistance for progressive power.
Made for home or race use.
Frame/Roller :
High grade aluminum body and rollers.
Fits bikes from mini-velo through 29″.
No need to change out skewers.
Fit to bike once and done.
Folds easily and can be fit into a checked bag for travel.
1.3kg x2 (2.6kg) flywheel provides a natural ride feel.
New ribbed belt insures smooth pedaling and durability.
Easy to see your position with the scale that's included in the slide part area.
Assemble and Setting :
Assembles and ready to ride in minutes.
Specifications :
Rated power : 400W / 35KPH
Net Weight :10.1 kgs
Capacity :300 lbs (with bike)
Roller :Precision made in Japan
Light alloy
Diameter : 79mm
Width : 140mm
Color : Titanium anodized
Wheel Base Size Capacity : 950 – 1,200mm
Important Notice :
Do not ride overly aggressively when using the FG542.
Set up on a stable, flat floor.
Only 100 mm width front fork. (105 mm and 76 mm are not compatible.)
20 mm thru axle adapter will be available soon.
Comes ready to use with 700c bikes and needs t be adjusted for other wheel sizes.
About Minoura Brand
Founded 1n 1933 Japanese manufacturer of outstanding cycling trainers, rollers and accessories.High End Solutions for Every Cycling Need.
Minoura FG-542 Bicycle Hybrid Roller/Trainer