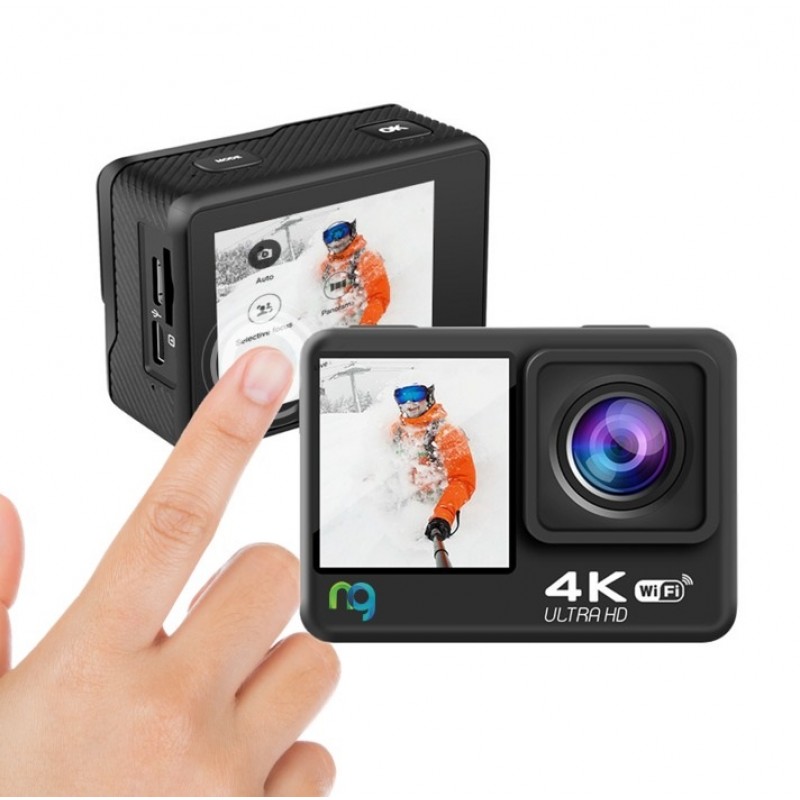 About NG Sports Action Camera 4K (Touch) Black
This Sports Action Camera 4K (Touch) manufactured by NG.
Color : black
NG Sports Action Camera 4K Description & Features :
4K Resolution video Camera
24MP Photo Resolution
Dual Screen for Perfect Selfie (2″ IPS HD Primary Touch & 1.3″ Secondary)
WiFi Supported
170 Degree Wide Angle
Remote Control Free
Free 12 Accessories
Multiple Shoot Options
Touch Screen
What is a 4K Ultra HD Action Camera?
First, it's important to understand the meaning behind the different terms within "4K Ultra HD action camera." 4K simply means Ultra High Definition (UHD), while 1080P means High Definition (HD). Think of each image and video frame as a grid with columns and rows of pixels. A 1080P HD image is 1080 rows high and 1920 columns wide. A 4K Ultra HD image has double this amount in both directions, resulting in roughly four times more pixels—hence the name, 4K.

How to Manage the Resolution of a 4K Ultra HD Action Camera?
4K UHD creates noticeably sharp images and video quality. While you definitely want a camera with 4K capabilities, it is also helpful to get one that can film in either 4K or 1080P resolution.
Although 4K gives you a better image quality, being able to shoot in 1080P (HD) does have its advantages. 1080P takes up less storage space, requires less bandwidth to transfer, and is compatible with more editing programs than 4K. Plus, 1080P uses less battery life so you can film for more extended periods. When deciding whether to shoot in 4K or 1080P, consider the size of your SD card and your current battery life. If you are running low on both, it may be helpful to switch over to 1080P.
If you're determined to capture the best still images and ultra-high-resolution videos, just remember to bring a charger, spare battery, and spare SD card.
About NG Brand
Meet Shah, Founder of NG India. I Founded NG India with Raj Shah in 2019 and ever since it has been the most satisfying and happening roller coaster ride bringing contentment daily, with the guidance of Rajesh Punetha Joining us as associate director in 2021, Our journey has taken an exponential curve thanks to his industry wisdom of more than two Decades Coming from a lineage of Consumer Durables and with a bug of entrepreneurship, We started looking for problems in the CE Space and came up with india's 1st EyeSafe TV, EarSafe Headphones and are on our way to launch AirSafe AC's soon.
NG Sports Action Camera 4K (Touch) Black