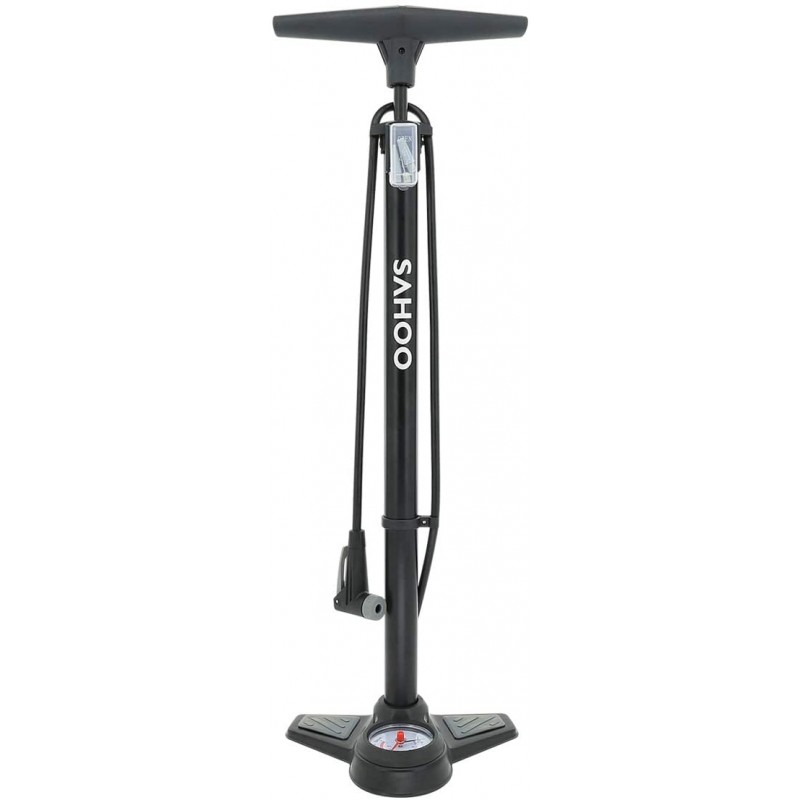 About Sahoo Bike Floor Pump Fits With Presta/Schrader Valve
Description:
HIGH QUALITY PUMP HEAD MEANS A BETTER PUMP- It is easy to use; requires no fiddling, switching or adapters; and has a convenient Pressure Release Valve to quickly and precisely remove air from tires to adjust for different types of training or riding (trail, road, etc…).
HIGH POWER, HIGH PRESSURE - Easily fill bike tires up to 160 PSI (11 Bar). Feel its power in every stroke.
EASY-TO-READ GAUGE: Adjustable Indicator for Easy, Accurate Fill. Sturdy, Steel barrel with Long, Flexible Hose. Perfect tire pump for all bikes and other uses.
ENGINEERED FOR HIGH PERFORMANCE BICYCLES: Don't trust your expensive high performance cycle to cheap plastic tire pumps. The last thing you need before a race is a damaged valve or an inaccurate tire pressure reading. Put your trust in our high quality, long lasting, precision bike pump. Our team stand behind each pump that leaves our Florida warehouse.
LONG LASTING: Backed by USA based servicing, this may be the last pump you ever need to buy. High quality materials and detailed workmanship combine to create a professional grade bike pump. Great for racing teams, international competition, and cross country touring.
Specification:
Item Package DimensionsL x W x H 27.5 x 9 x 6 inches (69.9 x 22.9x15.2 cm)
Package Weight 0.93 Kilograms
Brand Name Sahoo
Color 321040-A
Material Aluminium,rubber
Manufacturer Sahoo
Part Number 321040
Sport Type Cycling
Country of Origin This item will be import from US
About Sahoo Brand
Established in 2020, SAHOO AND COMPANY, one of the leading Manufacturer Sports And Cycling Related Products,Our vendors employ the most modern machinery to carry out production and other related processes perfectly. We work as a team in understanding the need of the customers, keeping each other's business interest intact so that we could deliver products at the right time and at the most competitive rates.
Sahoo Bike Floor Pump Fits With Presta/Schrader Valve