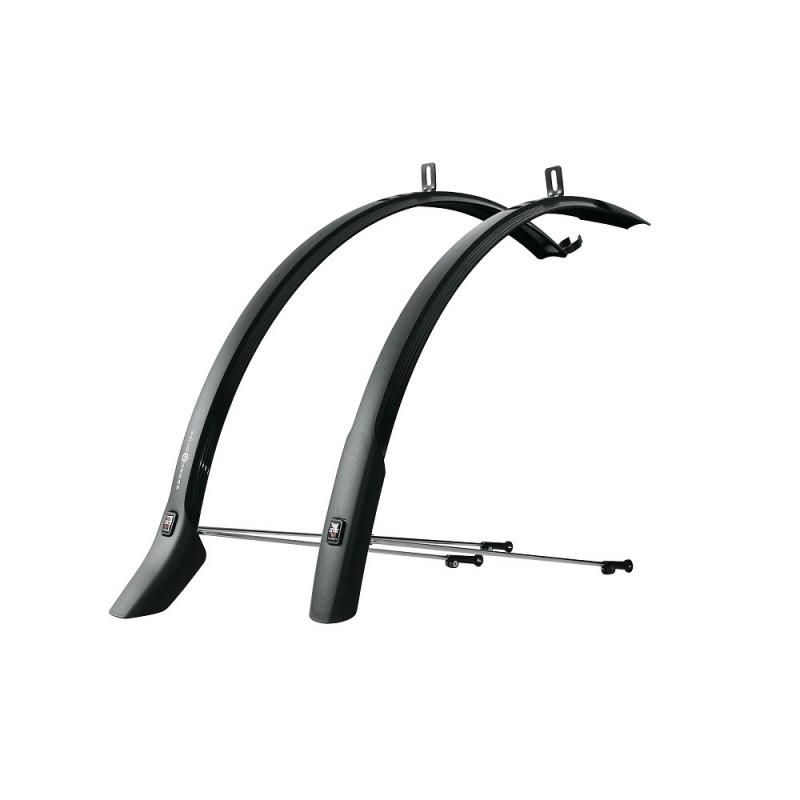 We are now shipping to all ALL ZONES across India. Further, NO DELIVERY is permitted in CONTAINMENT ZONES as of now.
About SKS Velo 42 Urban Hybrid Bike Mudguard, 42mm, 28"
Meant for wheel size 28", SKS Velo 42 Urban can be mounted to frame tubes of 25 to 35 mm diameter. "How to fit mudguards to a hybrid/road bike" is something you wouldn't have to worry with these clip on road/hybrid fenders. Mounting Velo 42 Urban bicycle mudguard to a bike means tightening few screws and that's all there's required without the need of an extra helping hand. On road or hybrid bike where every added weight counts, these hybrid bicycle mudguard set weighs 170g only. With U-stay mounting clips provided, you'll hear no irritating rattling sound of the mudguard over your journey.
With Velo 42 Urban road/hybrid bike mudguard set you'll keep yourself and your bike largely free from crud over the bout of wet weather. Having the best hybrid/road bike mudguards mounted on bike means reaching office as clean and fresh as you'd left from home. For others, bicycle mudguards add life to the bicycle components(think of drivetrain, brake-parts) which generally come in contact with whatever's been shot up by the tires. For few, it also means an easy laundry time and spot-free clothes/cycling kits. What are you in for?
Top Features
Good coverage from crud at an affordable price
Lightweight
Fastening including stays means no rattling sound, stiff mounting
Specification
Art.No.: 10998

Color: black

Weight: 170 g

Max. outer diameter: 35 mm

Profile width: 42 mm

Fastening: incl. Stays

About Bike Mudguards
Bike mudguards are designed to protect you from water sprays that tires shoots up during the ride. Be it sludge, grit, gunk, water-sprays, mudguards not only prevent it from ruining your cycling kit but it also protects the bike components as well. Choose the one that fits your bike(road, hybrid or mountain bike). They're generally easier to attach and detach. Front or rear mudguards are available at wizbiker.com for the road, hybrid and mountain bike to save you from all the muddy hassles.
About SKS
Driven by firm conviction and out of tradition, SKS Germany have been developing, designing, constructing and producing bicycle accessories since 1932 in their company based in Sundern, Germany. The slogan "Made in Germany" is not just an empty promise to them, but reflects their high standards in quality, function and design. A rider can experience this with every single one of their branded lines. SKS is best known for Chromoplastic and Bluemels full length fenders. Chromoplastics are the benchmark for top quality with Secu clip release systems, flexibility and elegance. High quality mini-pumps and frame pumps, precise air pumps, compact bicycle tools, chain guards, bottles, bottle holders and saddle bags have also been integrated into the SKS range of products to provide for even more comfort and safety while cycling. SKS. For carefree cycling.
SKS Velo 42 Urban Hybrid Bike Mudguard, 42mm, 28"