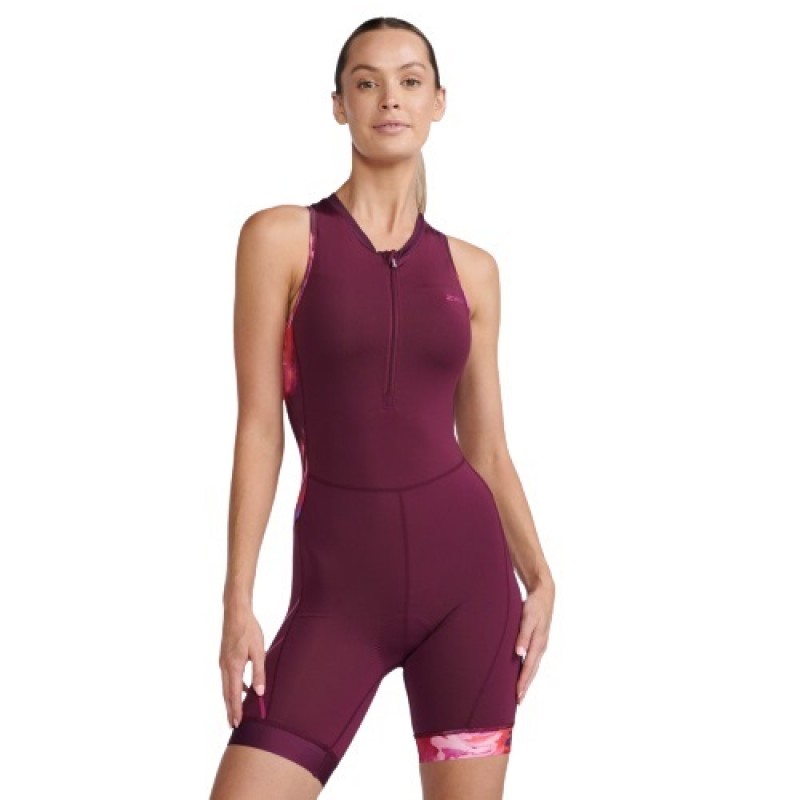 About 2Xu Core Women Trisuit Mulberry festival
Featuring all the tech you need to get you to the finish line, the Core Trisuit ensures nothing will hold you back at your next race.
Decription:
Powerful & Lightweight Support: With excellent stretch and recovery memory, PWX reduces muscle movement through lower body to prevent fatigue whilst premium Italian leg grippers provide breathable secure compression to keep leg hem in place.
Stay Cool: SBR SKIN LITE is engineered to provide lightweight and breathable support to the core, keeping the wearer's body temperature as cool as possible for maximum comfort through movement.
TMF® Core Tri Chamois: Designed for short distance races, the 65 density 2mm to 6mm foam is perforated to enhance moisture-wicking and speed to dry whilst Skyve technology shaves and shapes the pad down at the edges to ensure maximum support where needed and minimal bulk on the run.
Essential Storage: Easily accessible rear pockets provide adequate storage for your race-day essentials.
Fabric Composition: Main: 83% Polyester & 17% Elastane, Secondary: 65% Nylon & 35% Lycra
Model Measurements: Height: 175 cm, Bust: 84 cm, Waist: 67 cm, Hips: 93 cm. Lauren wears size S.
Features:
Sleeveless trisuit
Ergonomically engineered panelling
Powerful and lightweight PWX lower body
Lightweight SBR SKIN LITE upper body
Premium Italian-engineered silicone leg grippers
TMF® Core Tri Chamois
1/4 length semi-auto lock zip
asily accessible rear pockets
Washing Care Instruction:
Machine wash in cold water with like colours
Do NOT Tumble dry
Hang to dry in a cool shady area away from sun
Do not use bleach, fabric softeners or dryer sheets
Do not iron
What Is Trisuit?
The 2XU Compression Trisuit uses powerful, graduated compression to increase circulation, bringing more oxygen to muscle tissues. Plus, it stabilizes key muscles so you can train harder with reduced effort and risk of injury.
About 2XU Brand
2XU (pronounced ""Two Times You"") was launched when former professional triathlete Jamie Hunt turned his passion for sport into an obsession with performance fabrics. Together with two business partners, Australian retail guru Clyde Davenport (founder and past owner of Davenport Industries) and marketing specialist Aidan Clarke, Hunt created 2XU in Melbourne, Australia in 2005.Starting out as a specialist run and triathlon brand, 2XU has grown to become the world's most technical sportswear company, driven by a relentless pursuit to multiply human performance engaged in the design, development and selling of sporting apparel including compression garments, triathlon, cycle, running, open water swimming and general fitness wear.

2XU Core Women Trisuit Mulberry festival