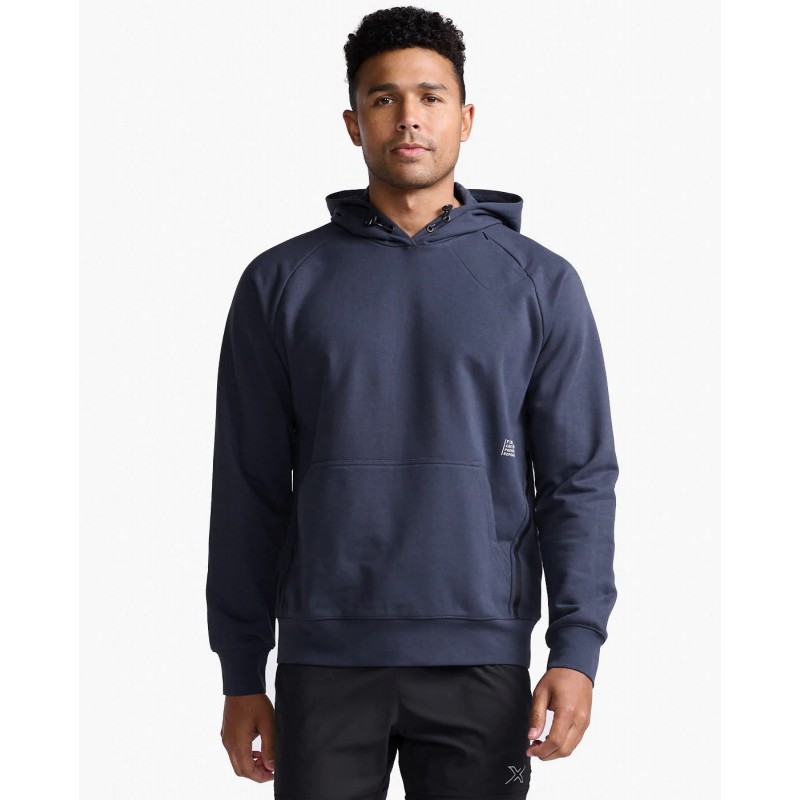 About 2XU Motion Men Gym And Taining Hoodie India Ink/White
Description
Made with soft loopback fleece, the Motion Hoodie has a streamlined, modern fit with a hidden shoulder zip pocket making it perfect for a quick workout outdoors or a day on the move.
Features
Technical hoodie.
Loopback moisture-wicking fleece.
Adjustable 3 piece hood.
Front pouch pocket with hidden zip pocket.
Elastic loops at cuffs.
2XU logo on chest.
STAY WARM
Soft loopback fleece construction creates small air pockets that trap your body heat in.
QUICK-DRYING
With a streamlined, modern fit, the stretchy fleece has an adjustable hood, elastic loops at cuffs to prevent sleeves riding up and moisture-wicking properties for all day comfort.
ESSENTIAL STORAGE
Front pouch pocket to keep hands warm with a hidden shoulder zip pocket to securely store your cards or keys whilst on move or at the gym.
FABRIC COMPOSITION
Main : 85% Cotton, 15% Polyester.
Rib Trim : 96% Cotton, 4% Spandex.
What Is Cotton Fabric?
Cotton fabric is one of the most commonly used types of fabrics in the world. This textile is chemically organic, which means that it does not contain any synthetic compounds. Cotton fabric is derived from the fibers surrounding the seeds of cotton plants, which emerge in a round, fluffy formation once the seeds are mature.
What Is Polyester Fabric?
Polyester is a synthetic fabric that's usually derived from petroleum. This fabric is one of the world's most popular textiles, and it is used in thousands of different consumer and industrial applications.Chemically, polyester is a polymer primarily composed of compounds within the ester functional group. Most synthetic and some plant-based polyester fibers are made from ethylene, which is a constituent of petroleum that can also be derived from other sources. While some forms of polyester are biodegradable, most of them are not, and polyester production and use contribute to pollution around the world.
What Is Spandex Fabric?
Spandex is a synthetic fabric that is prized for its elasticity. Contrary to popular belief, the term "spandex" is not a brand name, and this term is used to generally refer to polyether-polyurea copolymer fabrics that have been made with a variety of production processes. The terms spandex, Lycra, and elastane are synonymous.This fabric can stretch to 5-8 times its normal size, and it is commonly used in form-fitting consumer apparel. In most cases, pure spandex isn't used in garments, and instead, small quantities of this fabric are woven into other synthetic, semi-synthetic, or organic fibers.
About 2XU Brand
2XU (pronounced ""Two Times You"") was launched when former professional triathlete Jamie Hunt turned his passion for sport into an obsession with performance fabrics.Together with two business partners, Australian retail guru Clyde Davenport (founder and past owner of Davenport Industries) and marketing specialist Aidan Clarke, Hunt created 2XU in Melbourne, Australia in 2005.Starting out as a specialist run and triathlon brand, 2XU has grown to become the world's most technical sportswear company, driven by a relentless pursuit to multiply human performance engaged in the design, development and selling of sporting apparel including compression garments, triathlon, cycle, running, open water swimming and general fitness wear.
2XU Motion Men Gym And Taining Hoodie India Ink/White