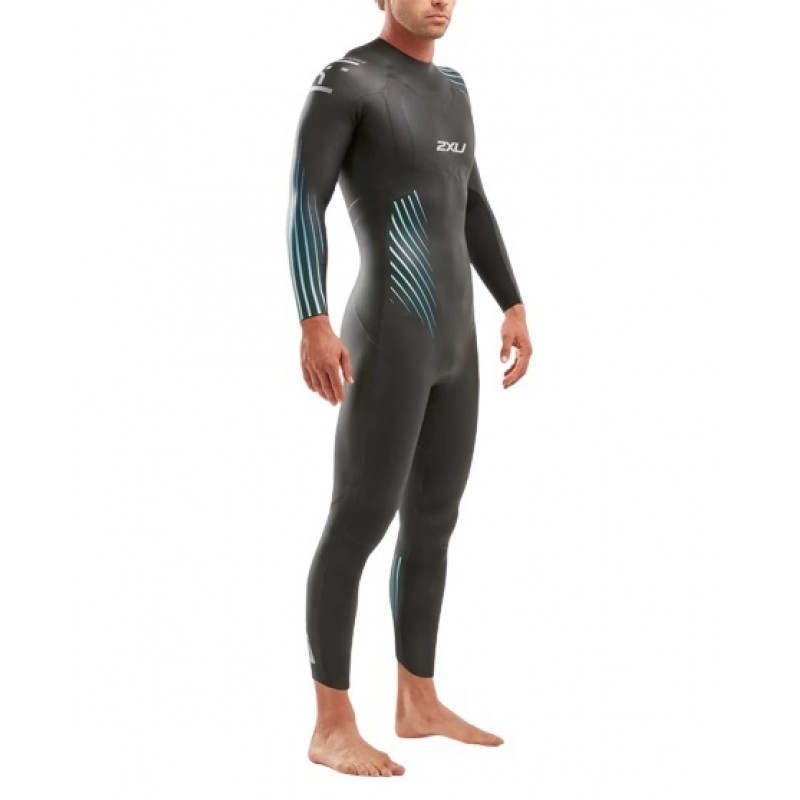 About 2XU Propel Men Wetsuit Black/blue ombre
The Propel P:1 Wetsuit is an all-around performer equipped with many of the technical features to give aspiring swimmers a winning edge.
Description:
BUOYANT & FLEXIBLE
Premium Japanese Yamamoto 39 Cell neoprene is buoyant but still flexible and varies in thickness throughout the body of the wetsuit, moving your centre of bouyancy lower, preventing sinky legs and putting you in perfect horizontal swimming position.
REDUCED WATER RESISTANCE
Super Composite Skin (SCS) hydrodynamic coating reduces surface drag for more speed.
ENHANCED EFFICIENCY
Floating zip panel increases movement for improved distance per stroke.
IMPROVED ROTATION
Rollbar technology ensures less buoyancy on perimeter of wetsuit, allowing snappier side-to-side rotation and eliminating dead spots in your freestyle.
INNER COMFORT & SUPPORT
Often-overlooked internal liner is engineered for 520% stretch to ensure comfort and low absorption.
FABRIC COMPOSITION
NEOPRENE
100% SPONGE RUBBER NYLON LAMINATED NEOPRENE
Features:
Full tri wetsuit
SCS hydrodynamic coating
Front body premium Japanese Yamamoto 39 Cell bouyant and flexible neoprene
Back panel premium Japanese Yamamoto 39 Cell nylon laminated durable neoprene
Floating zip panel
Rollbar technology
Lower leg propulsion panel
Quick release ankle Transition Panel
520% internal stretch lining
FABRIC COMPOSITION
Neoprene
100% Sponge Rubber Nylon Laminated Neoprene
Washing Care:
Machine wash in cold water with like colours
Do NOT Tumble dry
Hang to dry in a cool shady area away from sun
Do not use bleach, fabric softeners or dryer sheets
Do not iron
What is Wetsuit ?
A wetsuit is a garment worn to provide thermal protection while wet. It is usually made of foamed neoprene, and is worn by surfers, divers, windsurfers, canoeists, and others engaged in water sports and other activities in or on water.
About 2XU Brand
2XU was launched when former professional triathlete Jamie Hunt turned his passion for sport into an obsession with performance fabrics.Together with two business partners, Australian retail guru Clyde Davenport (founder and past owner of Davenport Industries) and marketing specialist Aidan Clarke, Hunt created 2XU in Melbourne, Australia in 2005.Starting out as a specialist run and triathlon brand, 2XU has grown to become the world's most technical sportswear company, driven by a relentless pursuit to multiply human performance engaged in the design, development and selling of sporting apparel including compression garments, triathlon, cycle, running, open water swimming and general fitness wear.
2XU Propel Men Wetsuit Black/blue ombre