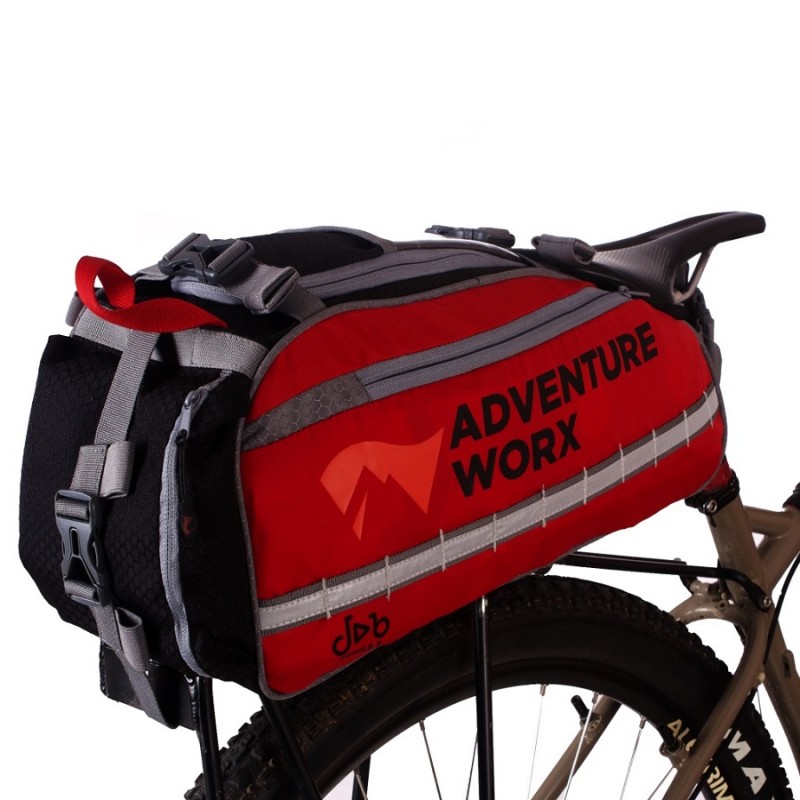 About Adventure Worx Cycling Carrier Bag Red
Compact, light weight carrier bag most suitable for touring cycles. This multi-purpose carrier bag is built with many useful features to make the touring comfortable. It easy to fix and remove from the carrier. It has features to keep a map in a see thru top, add a sleeping mat on the top and also features to fix tail lamp.
Features
Sleek design with detailed mounting Straps to securely fix on the carrier
Roomy main compartment to keep all essentials.
Can store rain jacket, towels, head gear, warmers and other essentials
Inside mesh pocket.
Two external zip compartments.
External rainfly compartment to secure the rainfly when not in use. To quickly release rainfly and cover the bag when it rains.
Two compression straps on top to fix the sleeping mat.
Top loading map compartment with see-thru material to place a map or an ID.
Reflective tapes for night riding.
Daisy chain on both sides to add safety gear like ropes, carabiner, etc.
Tri-colour to feel proud about a made in India product.
High quality zips and pullers for ease of use and durability.
Made with tough polyester fabric with water resistance properties and for long durable life.
Benefits
Gear Carry : 5
Weight : 4
Comfort : 5
Rain Proof : 5
Specification
Best use : Bike Touring
Gear Capacity : 14 Litre
Water resistance : Yes
Materials : Polyester
Dimensions (Inches) : H 19 X W 40 X D 19
Weight : 460 gms
Wash Care
Place in mesh bag for machine wash.
Use mild detergent and lukewarm water.
For hand wash – use soft brush and mild soap.
do not scrub too hard.
Drip dry in the shade.
Do not use petrol/acetate/alcohol solutions.
About Adventure Worx Brand
As a team of explorers ourselves, we make sure our products exceed our expectations before they exceed yours. The thrill of adventure runs in our blood and our endeavour is to make every adventure safe, enjoyable and memorable for everyone. It's a philosophy on which we've built our roadmap. We design, manufacture and sell a range of sporting gear for mountain sports, cycling & running.
Adventure Worx Cycling Carrier Bag Red