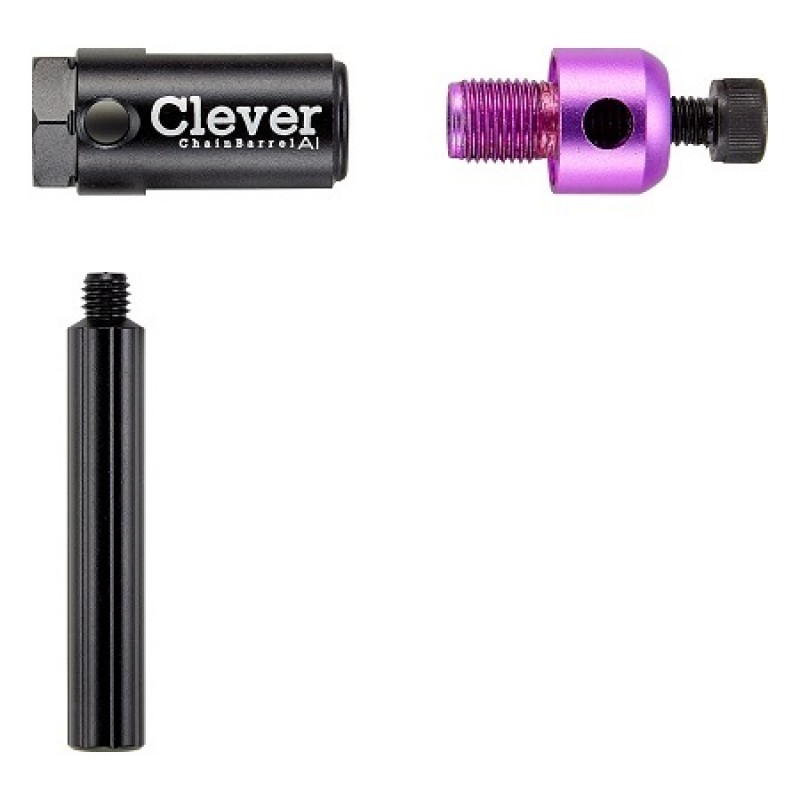 About Clever Chain Barrel AL With Valve Core Remover Handle
Description:
The Clever Standard Chain Barrel is a patented chain tool is one of the easiest chain
breakers on the market. The Chain Barrel is so easy, that it basically allows the user to
essentially "break" the chain with your eyes closed. The Chain Barrel breaks a link on
nearly any multi-speed chain, as well as a few basic single-speed chains. (*Note, current
version is not compatible with Shimano XTR 12 speed chains or Sram 12 speed Road
Chains. We're working on a new model that will be compatible.)
Features:
The design locks the chain into position inside the barrel, a safety cap threads into place.
To keep everything held tight. Then you simply drive the pin through! It's probably the easiest to use chain breaker you've ever seen.
Included with the Chain Barrel is an aluminum handle that will provide additional leverage.
As an added bonus, the tip of the handle doubles as a valve core wrench!
Available in colors including, red, blue, green, pink, orange, purple, or the classic black.
The Chain Barrel is small, easily nestling in a corner of your saddle bag, jersey.
pocket or hydration pack
Specification:
Weight: 46grams
Size: 17mm diameter, 43mm length
Material: Aluminum body & cap with, steel pin
Handle Material: Aluminum
Required tool for usage: 5mm hex.
*Note: Tool may not work on new 12-speed XTR chains & new SRAM 12spd chain (they have a different shape to the body)
About Clever Brand
Developed through a passion of making the most innovative and functional bicycle tools, we are a group of cyclists who share our love of creating high quality, multi functioning, 'Clever' tools for all cyclists to enjoy.
Clever Chain Barrel AL With Valve Core Remover Handle