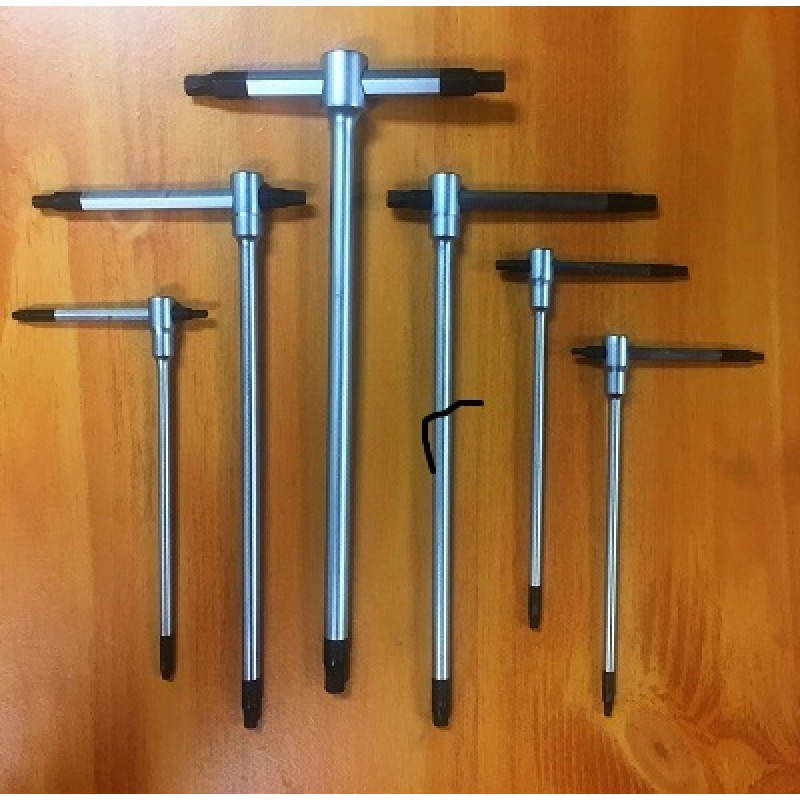 About Clever-Rescue-T-Hex & Extractor Slide T Handle Kit
Specification:
Distributed by Clever Standard Inc, the FAV "Rescue-T" is an innovative dual purpose sliding T-Handle Wrench that will make installing and removing Hex (Allen) bolts pain free... even if they're stripped!One side of the Rescue-T provides a traditional, secure fitting, hex wrench to tighten or loosen your standard bolt.But what if that bolt is stripped?!? The unique aspect of this tool is that it includes two identical Extractor heads thathave been designed to remove stripped Hex bolts. Save time and a lot of hassle utilizing this specialized tool that will grasp the last bit of life off bolts that simply can't be saved by your standard hex.How is this possible? As long as there is a little life left in the bolt, the Rescue-T has been designed to grab enough of the bolt head to allow you to remove the stripped head.By applying this extractor design to a T-Handle wrench, you are provided with enough force and leverage to muscle out the most stubborn of bolts.Saving you. time and effort.
Features:
Metric sizes include 2mm, 2.5mm, 3mm, 4mm, 5mm & 6mm.
Weight: 333g (combined)
(*Disclaimer: The Rescue-T has been designed to work on a wide variety of stripped bolt heads, however there are always bolt heads that may even be beyond our means. This tool is intended to save time and hassle for the vast majority of stripped bolt heads)
About Clever Brand
Developed through a passion of making the most innovative and functional bicycle tools, we are a group of cyclists who share our love of creating high quality, multi functioning, 'Clever' tools for all cyclists to enjoy.
Clever Rescue-T Hex & Extractor Slide T-Handle Kit