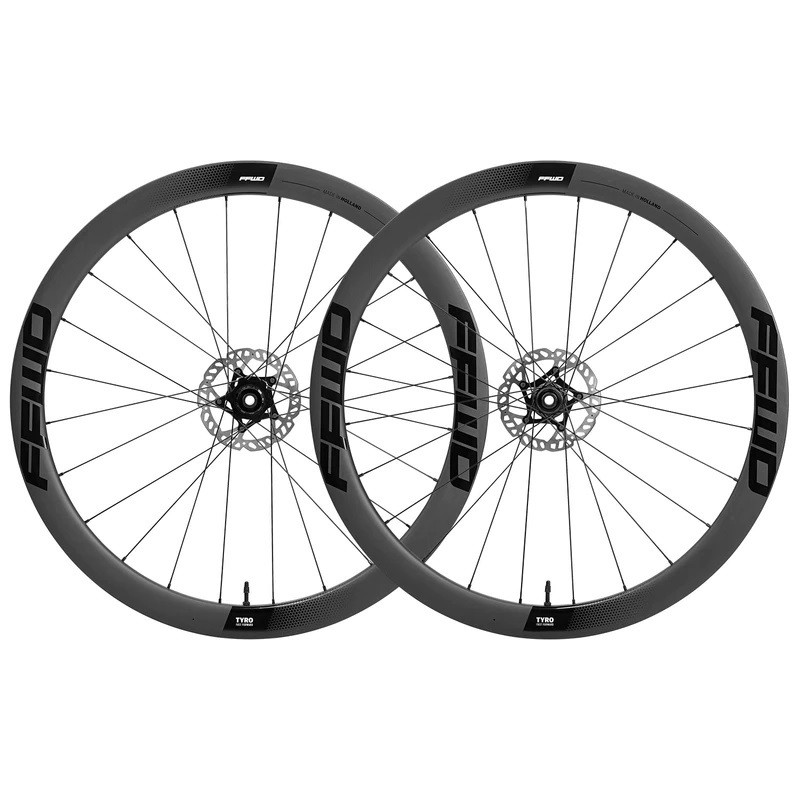 About FFWD TYRO Road Wheel 45 MM Full Carbon Clinchers Black Disk Brake
Description:
THE MOST VERSATILE MODEL IN OUR COLLECTION
The TYRO wheels are developed for maximum versatility. Not only because these wheels are available in almost all possible variants, but especially because they can be used in all conditions and on every surface.
Thanks to its low weight starting at only 1675 grams, the TYRO meets great performance in both the flat countries and the high mountains. Optimized for high speeds with a lateral stiffness for winning sprints and improving your personal records on every col.
MODERN TUBELESS READY FULL CARBON RIMS
The 45mm carbon rims of the TYRO are equipped with all modern requirements. The internal width of the rim is optimized for mounting tyres up to 44mm, making the TYRO suitable for both road and gravel bikes. That's why we talk about maximum versatility! By default, the TYRO rims are tubeless ready and the wheels are always supplied with tubeless tape mounted and tubeless valves in the box.
ROCK SOLID FFWD HUBS
High quality hubs with a minimum of rolling resistance, low maintenance frequency and optimal durability. The TYRO is equipped with our own brand FFWD hub, which provide you stable and reliable quality at the best possible conditions. These FFWD hubs are 12mm thru-axle compatibilit out of the box, but thanks to the conversion kits they can be converted to a 15mm or quick release mount in no time.
Features:
GENERAL
HUB
Hub Type FFWD
Body System Ratchet system
Bearings Steel
About FFWD Brand
Fueled by outstanding customer service, FFWD will be a global and well respected brand by offering high quality carbon road wheels.Get Confident. Go Fast.It starts with the confidence that you can, and trusting your gear can too. Unconditionally. We'll make sure it does.High quality carbon wheels for road, cyclocross, track & triathlon.All wheels are Hand built in Holland for optimal performance and quality.
FFWD TYRO Road Wheel 45 MM Full Carbon Clinchers Black Disk Brake