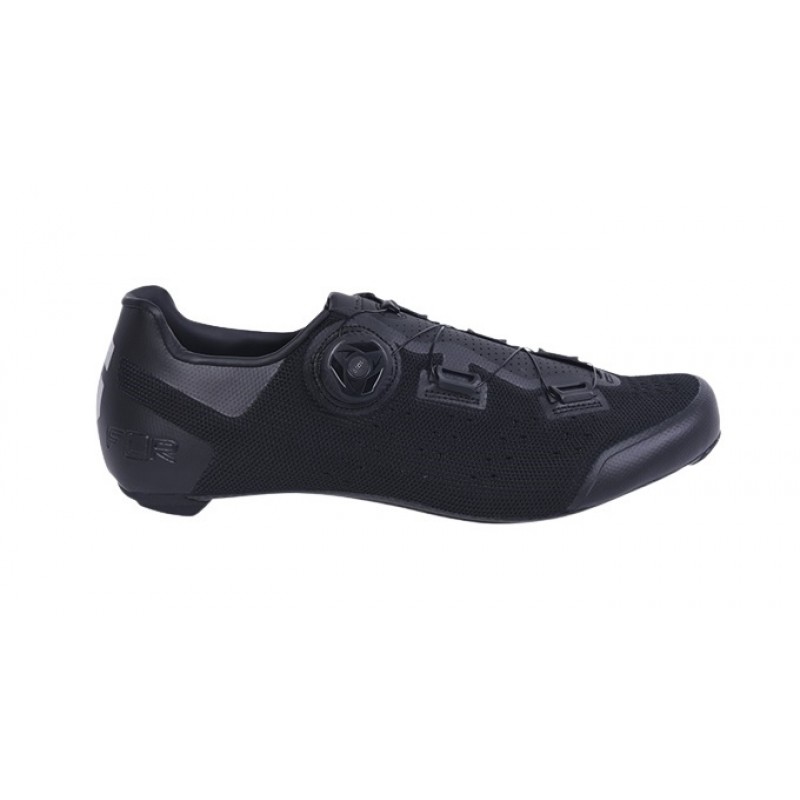 About FLR F-XX Knit Shoes Black
We have taken our lightest, World-Tour winner shoe and made it even better.We remastered our superior racing shoe with premium performance, stiff power transfer,exceptional comfort and made it the most breathable shoe yet.If your feet get sweaty as you ride, but you don't want to compromise power – the F-XX XD-Knit isfor you. Our pro-tour riders all say the same thing "it is the most breathable shoe they've raced with".
Description:
The F-XX Knit sports a similar profile to the F-XX II and features
The elite R500 carbon fiber outsole for maximum power transfer.
The footbed is sculpted with a supportive hazel that helps to increase blood flow,reduce hot spots on your foot and ensure that your power is going directly into the pedal for maximum performance.The new upper uses a triple layer of extra strong nylon yarn of our development XD-Knit that is super breathable and will keep any riders foot cool on those hot, long rides.The new XD-Knit is durable, will keep riders feet in place and won't stretch.This seamless upper has a sleek look that is complete with single new dial to optimize closure on a critical foot zone.
Features:
Winner of 2X stages at La Vuelta Espana Grand Tour and US Road Championship
Pro Tour last and fit
R500 Road Carbon Outsole
3 Layers of nylon yarn XD-Knit
Performance cushion insole
What is Cycling Shoes?
Cycling shoes are shoes purpose-built for cycling. There are a variety of designs depending on the type and intensity of the cycling for which they are intended. Key features include rigidity, for more-efficient transfer of power from the cyclist to the pedals, weight, a method of attaching the shoe firmly to the pedal and adaptability for use on and off the bicycle. Most high-performance cycling shoes can be adjusted while in use, via a quick-adjusting system that has largely replaced laces.
About FLR Brand
FLR was founded on an intense passion for cycling, striving to provide every cyclist an opportunity to extend beyond their current aspirations and achieve their cycling goals. Each shoe is designed in close cooperation with professional cyclists around the world.
FLR F-XX Knit Road Shoes Black