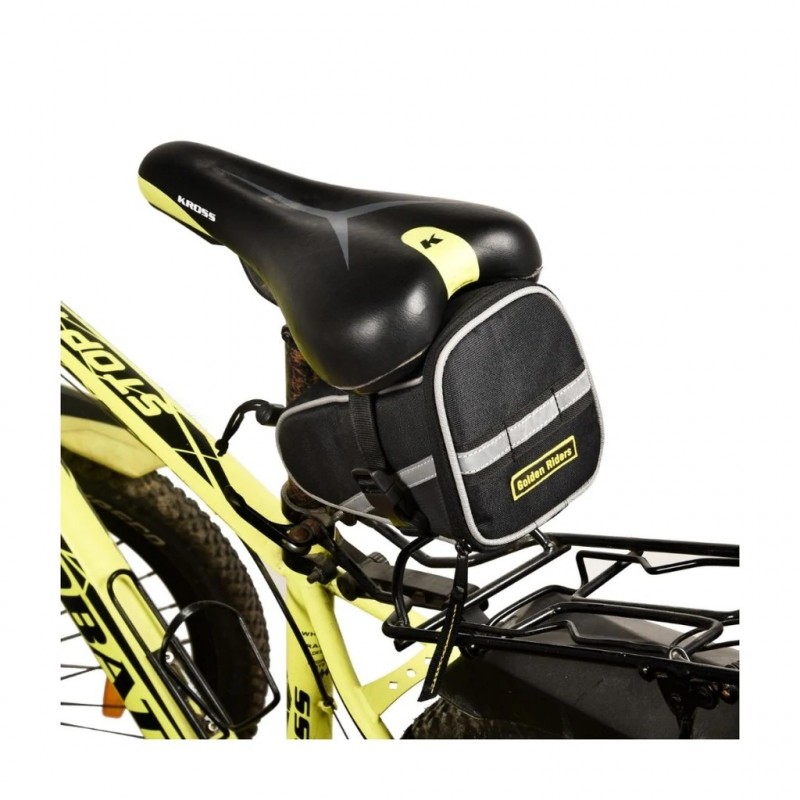 About Golden Riders Seat Saddle Bag Black
Golden Riders's seat tail bag is one of its kind accessory bag for bicycle enthusiasts. It has overall reflective taping around the bag, which ensures more safety while poor visibility conditions. It is designed and shaped to fit every bicycle without any modifications. It has featured with padded walls for shape retention & safety, brighter lining in florescent color for better vision. Made In India.
Product & Design
Golden Riders's SEAT-SADDLE bag is light weighted and water resistant accessory-bag for bicycle riders while going on regular/ short/ long ride.
Safety & Features
Reflective 3M tape all around the bag, for fighting low visibility conditions.
Rainstorm covers for protection against dust & rain.
Zip-closure with flap.
Strap/loop on flap to mount safety light.
Fit & Dimensions
It fits easily on most of bicycles from varied brands: Straps on two side for mounting bag with seat and one at back to tie it with frame: Size: 15 x 10 x 9 cms: Volume -1 litre: Colour -Black.
Made/Raw Material
Primary Shell- Heavy 900 D fabric: Secondary Shell - water resistant polyester fabric: Heavy plastic fittings: Water-repellent zippers/metal sliders: 3M reflective tape: PP Foam for padding: No cheap raw materials used.
About Golden Riders Brand
Years of biking across the country led us to one thing - the need for quality motorcycle bags in India. More importantly, motorcycle bags that are specially made for bikers in the subcontinent.So in 2017 we decided to take matters into our own hands and created our first batch of products - saddle bags, side saddle bags & tank bags. Since then we have come a long way. However, we understand that our journey has only begun.
Golden Riders Seat Saddle Bag Black