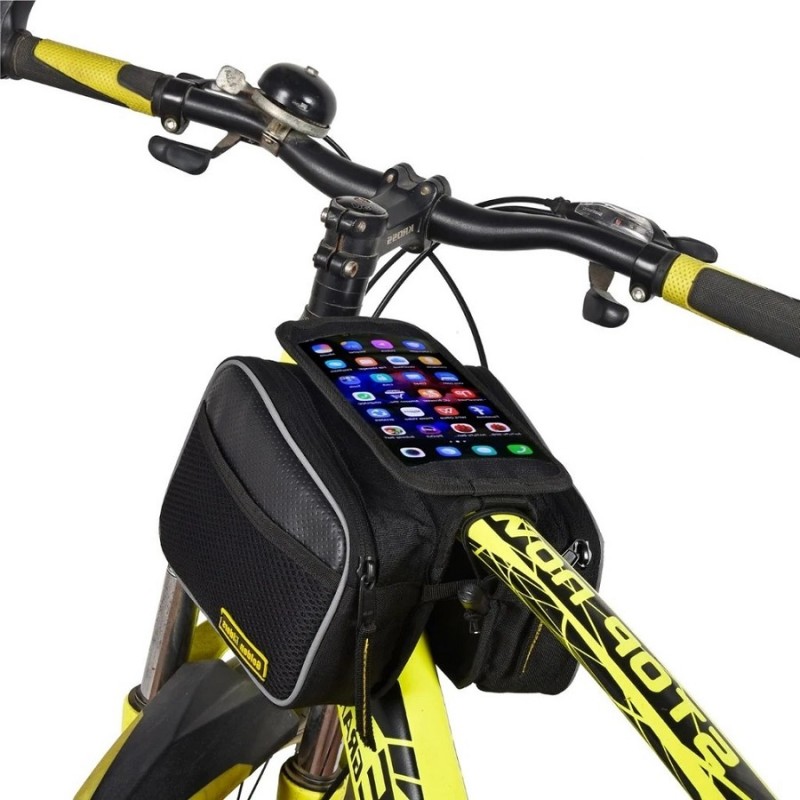 About Golden Riders Wagon Cycling Front Frame Bag Black
Precisely designed to carry mobile phone and other essentials in front, on top tube and attached to head tube. It is a pro-design with minimalist shape and better holding capacity. light weight, water resistant pouch for bicycle rides.
Safety & Features
Two straps to hold pouch; one with velcro for top tobe & other with velcro + push lock for headtube. The double straps for the head tube ensures pouch safety & placement with the bicycle:
Reflective 3M tape for fighting low visibility conditions.
Zip-closure mechanism.
Mobile pocket on top to carry cell phone and access touchscreen while riding.
Main compartment to carry essentials.
Ear-plug slot.
Water-proof cover to safeguard pouch against rains.
It & Dimentions
It is shaped to fit well on most bicycles from varied brands.
It goes well with varied heights/styles of bicycles.
Size : 19 x 9.5 x 9.5 cms.
Volume- 1 liters.
Color-Black.
Quality Assurance
Tried and tested product. Any kind of manufacturing defect is covered under 3 months warranty period.
Made/ Raw Material
Primary Shell- Lightweight 300 D/ water-resistant fabric.
Secondary Shell- water resistant polyester fabric.
Heavy plastic fittings.
Water-repellent zippers/metal sliders. Fabric used protects the pouch from spills, drizzles and other moisture. No cheap raw materials used. polyester fabric.
Heavy plastic fittings.
Water-repellent zippers/ metal.
About Golden Riders Brand
Years of biking across the country led us to one thing - the need for quality motorcycle bags in India. More importantly, motorcycle bags that are specially made for bikers in the subcontinent.
So in 2017 we decided to take matters into our own hands and created our first batch of products - saddle bags, side saddle bags & tank bags. Since then we have come a long way. However, we understand that our journey has only begun.
Golden Riders Wagon Cycling Front Frame Bag Black