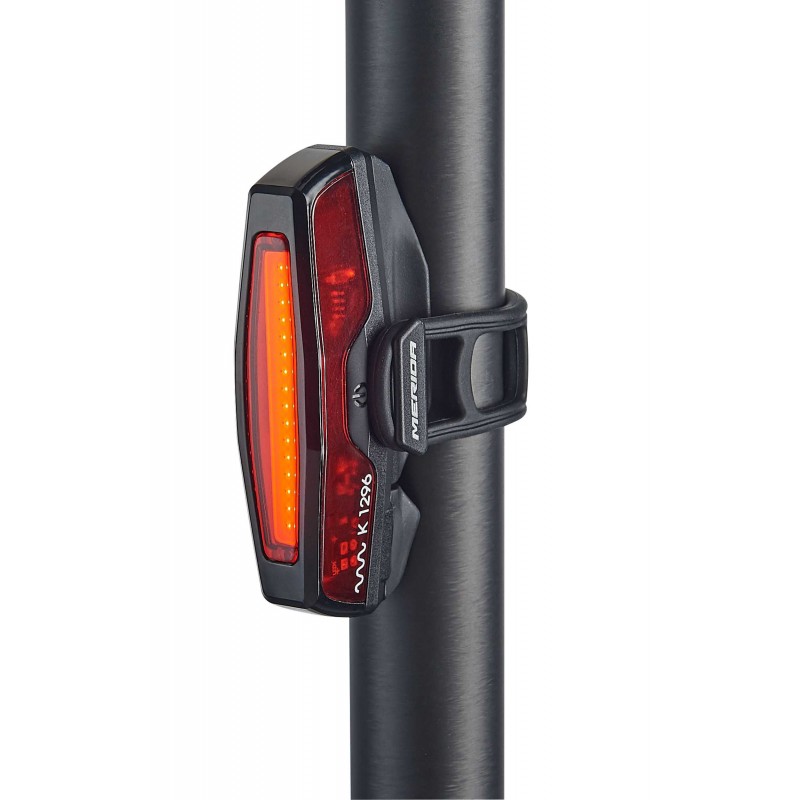 About Merida Aero Super Bright Black And Grey Rear Light
A super lightweight rear light, built to keep you safe without losing your speed.
Featuring a low-profile, aero design the MERIDA SUPER BRIGHT REAR AERO is a bright, 25 lumen rear red light that punches far harder than it's tiny size would suggest. It is convenient to recharge using USB and has a high-quality Lithium-Ion Polymer battery that will fully charge in 2.5 hr and run for up to 1.5h. It can be quickly fitted and removed without tools, ideal for security or swapping between bikes.
At just 31 g, the SUPER BRIGHT REAR AERO won't weigh you down on or off the bike. It is suitable for seatposts (including aero posts) measuring 19-48 mm in diameter.
Technical info: Type of battery (battery or USB): USB Kind of USB battery: Lithium-ion polymer (300 mAh) Charging time: 2.5 h Running time - in each mode: Constant: 1.5 h Kind of light - quantity and power of bulbs/diodes: 16 COB Chips Output in lumens: 25
Specification:
ITEM-NO:2128002095
HEIGHT:3 cm
LENGTH:8 cm
WIDTH:3 cm
WEIGHT:31 g
MATERIAL:PC
About Merida Brand
MERIDA's company founder Ike Tseng (1932–2012) was a very honour-able person and a real visionary. During a trip through the USA at the beginning of the 1970s, he discovered a note at the door of a bike shop stating that no bikes from Taiwan were accepted for repair due to bad quality. This annoyed Ike Tseng – and already shortly after, in September 1972, the first production plant of his company Merida Industry Co., Ltd. was opened in Yuanlin (Taiwan).
Merida Aero Super Bright Black And Grey Rear Light