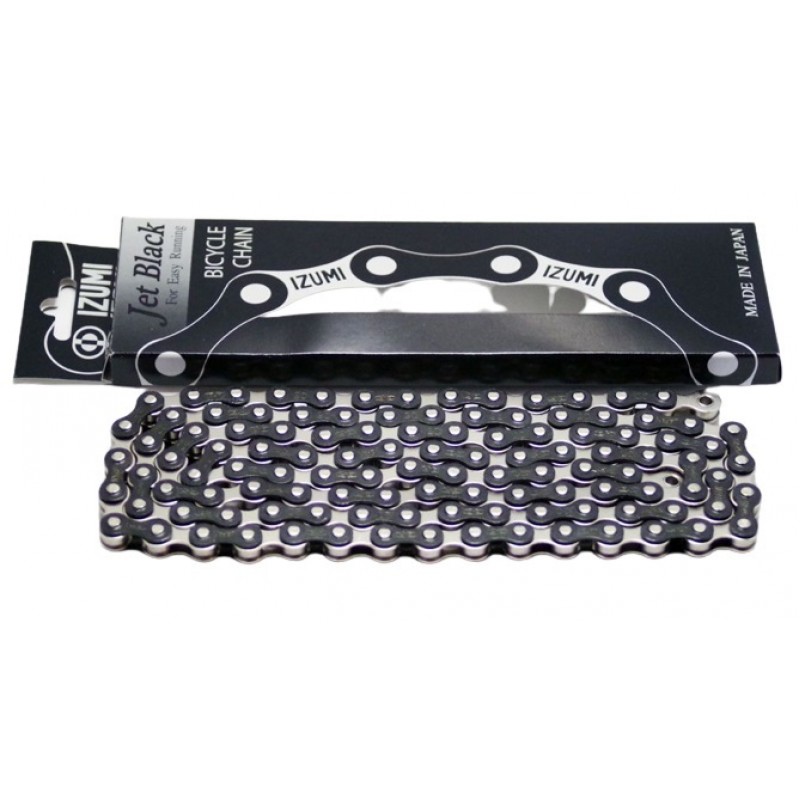 About Izumi 1/2 x 1/8 Standard 116L-AJB Jet Black Bike Chain
Description:
What Drives You
The chain is the heart of a bicycle: what connects it, what drives it, what animates it. Izumi has been making chains for over a century, and only chains. That singular focus gives us an unparalleled advantage in developing new innovations and improvements in quality and performance. Read on to learn more about why the world's best track racers trust Izumi chains for their bikes, and why the world's largest component makers trust us to make theirs.

What is Bike Chain ?
A bicycle chain is a roller chain that transfers power from the pedals to the drive-wheel of a bicycle, thus propelling it. Most bicycle chains are made from plain carbon or alloy steel, but some are nickel-plated to prevent rust, or simply for aesthetics.
About Izumi Brand
We started in 1916 as a maker exclusively of high-quality bicycle chains Osaka, Japan. No one knows bicycle chains like Izumi. . In the century since, bicycles have changed dramatically: from one gear to 12, with increasingly sophisticated drivetrains that require light, durable, efficient chains for peak performance.Today, Izumi remains family owned and operated, and manufactures more than 4.5 million bicycle chains a year, including the legendary Super Toughness, and chains for Shimano's high-end road, mountain and e-bike groups, all made entirely in Japan.
Izumi 1/2 x 1/8 Standard 116L-AJB Jet Black Bike Chain