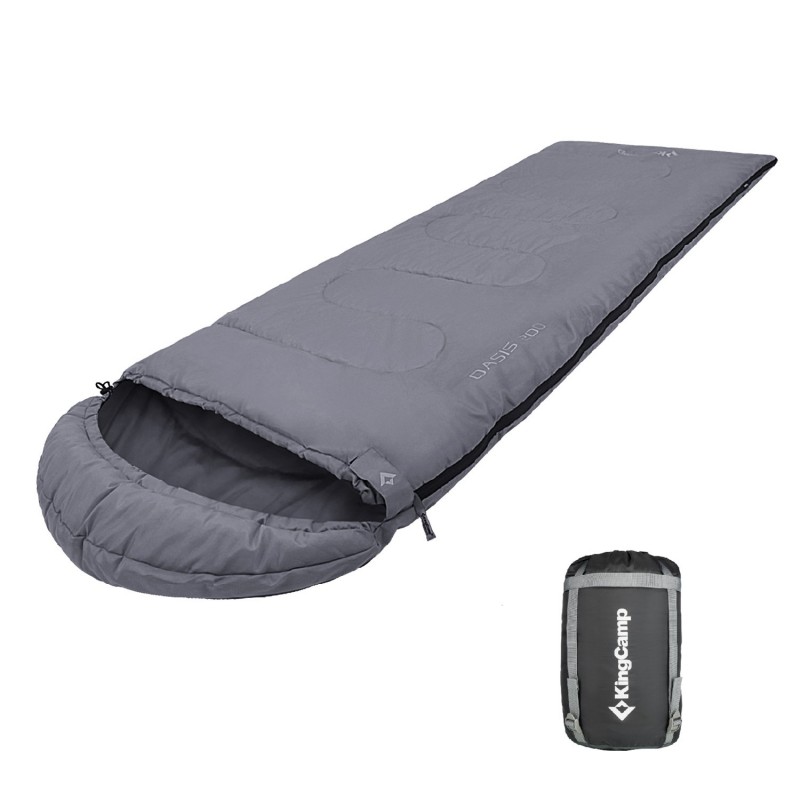 About Kingcamp Oasis 200 Sleeping Bag Middle Grey KS8014
Fabric: 100% polyester fiber, waterproof and calendered
Lining: 100% polyester fiber
Cotton flannel plaid
Filling: 100% polyester fiber 200g / m2
Bag: 100% polyester fiber Oxford cloth compression bag
Features:
Lightweight, easy to compress, and good heat retention. Single layer design.
Hat, chest collar, windshield, inner pocket, anti-pinch zipper strip.

keep warm well.

Single layer Hood, Thermo Collar, Wind Baffle Inner Pocket, Zipper Baffle

Color : Blue, Middle Grey, Green
Technical Specification:
Outer Materials: 190T Polyester w / p cire
Sleeping bag Filling:
Comfort Loft 200g / m2
Internal Lining: 100% Polyester
Carry bag: Oxford compression
About Kingcamp Brand
The KingCamp Brand was founded by Shu Guoking from China who in 1993 trekked across China into Europe where the freedom and beauty of the outdoors led to be making the decision to return to his native home to begin the process of building a company that would make accessing the beautiful outdoors globally easy and affordable without compromising quality or performance.Shu developed the corporate motto of; "LEARN TO LOVE OUTDOORS" as a result of his experiences.
Kingcamp Oasis 200 Sleeping Bag Middle Grey KS8014