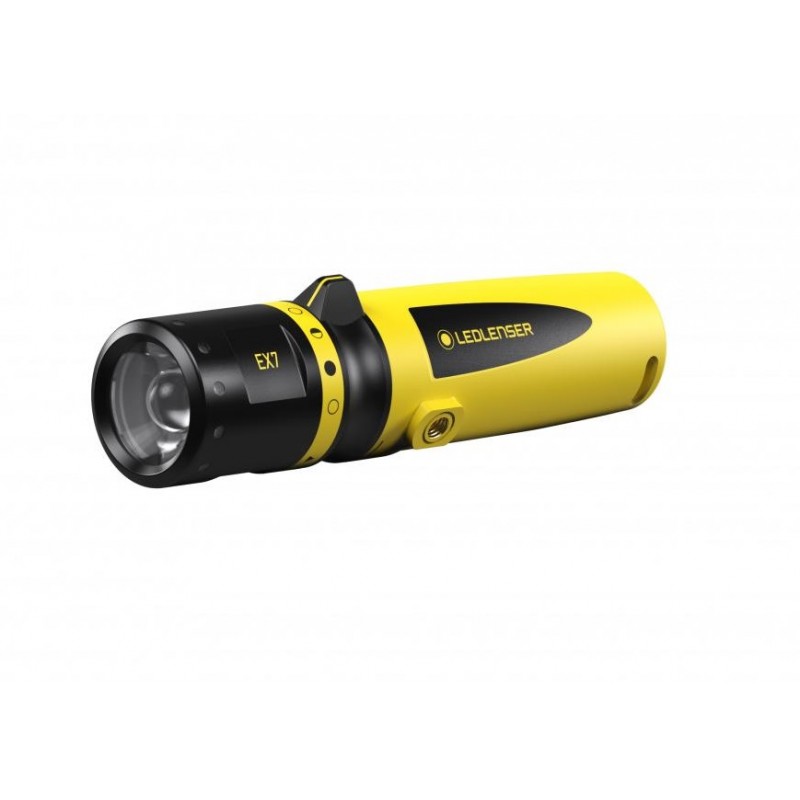 About LED Lenser EX7 Rechargeable Flash Light Yellow
If you want to roll up your sleeves and keep your gloves on, the Ledlenser EX7 is just the lamp for you. Because its extra-large Magnetic Switch is easy to operate even with the most bulky protective gear. At the same time, the torch is Ex-Zone 0/20 with patented Advanced Focus System. This means that you are protected from the tank to the grain silo in almost any environment that is at risk of explosion due to gas or dust. And that with a runtime of up to 45 hours.
Specifications :
LED
LED Configuration: 1 x LED
Color Rendering Index: 65 CRI
Color Temperature: K - K
Boost Power Mid Power Low Power
Luminosity1 (lm) N/A 200 N/A 60
Light range1 (m) N/A N/A N/A N/A
Operation time1 (h) N/A 16 N/A 45
Battery
Type2 Mignon (AA) 1.5V
Loading time N/A min
Casing
Head material : PC
Headband material : None
Case material : None
Head diameter : 41 mm
Length : 161 mm
Tightness : IP68
About LED Lenser Brand
Discover the enlightening story of the Ledlenser brand – from its beginnings in the 1990s to today's international company.As a leading international brand of hand-held torches and head lamps, LED Lenser is renowned for superior German engineering, outstanding performance, and state-of-the art technologies, such as the patented Advanced Focus System and Smart Light Technology. Constantly driving innovation to provide class- leading lighting instruments, LED Lenser is the brand of choice for professional tradesmen, emergency services personnel, search and rescue teams and serious outdoor enthusiasts. LED Lenser hand torches and head lamps deliver breath-taking, bright homogenous white light that turns night into day and simply has to be seen to be believed. Using only the finest materials, such as energy-efficient CREE LED light chips, aircraft-grade aluminium and gold-plated contacts, they are renowned for quality and have a reputation for reliability that is second to none.
LED Lenser EX7 Rechargeable Flash Light Yellow