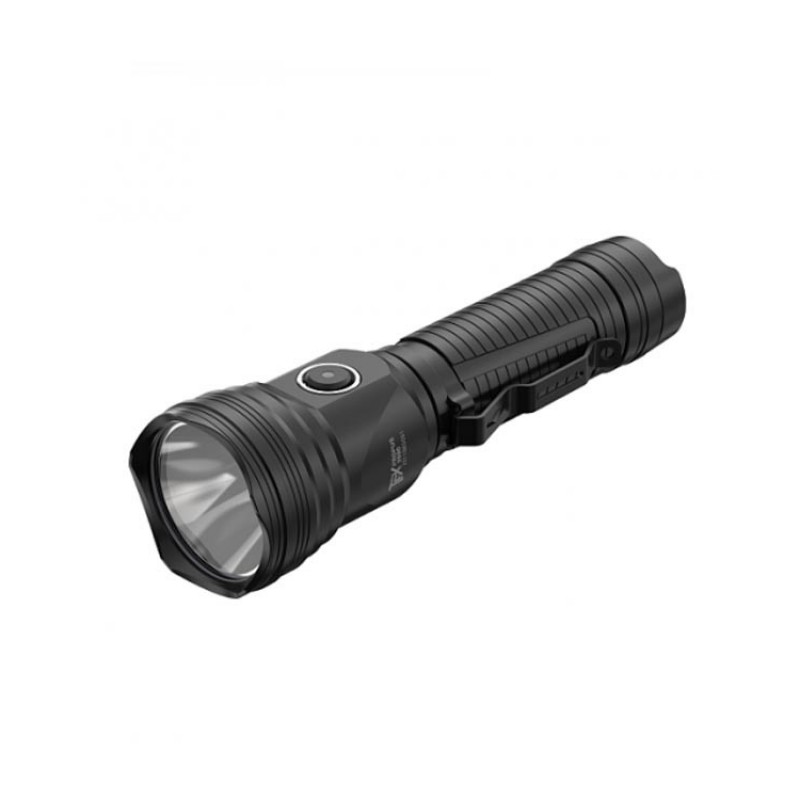 About LED Lenser Propus 3500 Rechargeable Flash Light Black
The Propus 3500 is an extremely powerful tactical flashlight with no less than 3500 lumens. This gives it a range of up to 250 meters. The head is only 4.3 cm thick, but thanks to the special reflector it really generates a very bright and penetrating light beam. This means you are immediately ready for any action.
The switch on the front can be operated quickly and silently. In addition, it serves as a battery/charging indicator. The powerful 27100 battery ensures a long operating time and can be charged quickly and easily with the USB-C charging cable.
Of course, this tactical flashlight has different modes and the strobe can be switched on immediately.
High: 3500 lumens / 250 meters / 1 hour
Mid: 1400 lumens / 150 meters / 2 hours
Low: 40 lumens / 25 meters / 35 hours
strobe
Thanks to the memory function, the lamp will automatically switch on in the last used position.
Furthermore, this lamp is really developed for intensive use under difficult conditions. For example, it is waterproof according to the IPX8 standard and is drop-resistant up to 2 meters on concrete. The front has a solid striking edge for emergencies. The lens has an extra protective glass made of armored and virtually unbreakable glass.
End cap switch, glass shield, clip and low weight due to aluminum housing
Adjustable tactical wrist lanyard
21700 i-ion battery, directly rechargeable via USB C
216 grams
Waterproof IPX 8
USB charging cable
Drop resistant up to 2 meters
Nice and powerful tactical flashlight!
RANGE : 201-300 Meters
LUMEN : 3001-4000 Lumen
FLASHLIGHT TYPE : Rechargeable
Specifications:
LED Configuration - Xtreme LED
Luminosity - MAX 3500 lm - MIN 40 lm
Lighting Range - MAX 250 m - MIN 25 m
Battery Duration - MAX 35 h - MIN 1 h
Battery Capacity - 17.76 Wh
Water Resistance - IP68
Battery - 21700 Li-ion 4800mAh
Rechargeable - Yes
Length - 140 mm
Head Diameter - 43 mm
Weight - 216 g
About LED Lenser Brand
Discover the enlightening story of the Ledlenser brand – from its beginnings in the 1990s to today's international company.As a leading international brand of hand-held torches and head lamps, LED Lenser is renowned for superior German engineering, outstanding performance, and state-of-the art technologies, such as the patented Advanced Focus System and Smart Light Technology. Constantly driving innovation to provide class- leading lighting instruments, LED Lenser is the brand of choice for professional tradesmen, emergency services personnel, search and rescue teams and serious outdoor enthusiasts. LED Lenser hand torches and head lamps deliver breath-taking, bright homogenous white light that turns night into day and simply has to be seen to be believed. Using only the finest materials, such as energy-efficient CREE LED light chips, aircraft-grade aluminium and gold-plated contacts, they are renowned for quality and have a reputation for reliability that is second to none.
LED Lenser Propus 3500 Rechargeable Flash Light Black