About Light & Motion Vya Pro Bike Smart Headlight Black
Description
The Vya Pro Headlight give commuters innovative day/night visibility in a platform that be installed/removed from the bike in seconds. Sensing ambient light, the smart headlight knows to pulse in the daytime but remain steady at night - automatically adjusting to the safest riding mode possible.Auto-on/off sensors - like all Vya lights - automatically activate the light when the ride is started and turns itself off after the ride, with a delay built in for stoplights. The simple convenience is a feature riders love, eliminating the need to turn on/off lights. A scientifically designed SafePulse beam pattern for daytime riding not only gets noticed from motorists, but allows the driver to accurately judge distance from the rider and their direction of travel - a safety feature not possible with strobing lights. Attaching Vya is effortless with a simple clockwise 1/4 turn into the mount locking the light in place and activating the auto-on feature. When it comes time to recharge, remove Vya from the mount in seconds and insert the integrated USB paddle directly into a computer or USB power outlet - no cables keeps recharging simple and efficient. The next evolution in bike lighting, Vya Smart Lights are unmatched for their ultra-compact engineering and effortless safety.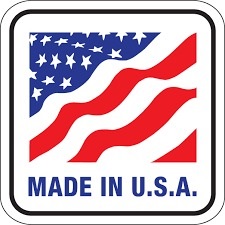 Key Features
200 Lumen Output (250 in Daytime SafePulse mode) certified to the FL-1 Standard with high powered premium CREE LED.
Ambient light sensors detects automatically adjust mode based on the most safe beam pattern for riding: SafePulse in the daytime and steady at night.
Smart technology senses motion and automatically turns Vya on when inserted into mount and will remain on, even when a rider pauses at stoplights.
Auto-off when bike is parked or light is removed from mount to prevent the dreaded 'dead bike light' when it comes time for the next ride.
SafePulse beam pattern scientifically designed to enhance a driver's ability to judge the cyclist's distance and direction of travel without the risks associated with flashing lights.
Horizontal design with custom optic gives a powerful, concentrated burst of light to be recognizable over 2KM away in daylight.
6 hour runtime during the day (SafePulse) and 2 hours at night (solid mode) ideal for day/night commuting.
Versatile mounting design can be secured to a range of handlebars, optional GoPro mount interface for unlimited mounting options.
USB Mount Receptor allows light to be securely mounted or removed from bike in seconds with a simple, secure 1/4 turn lock; light will not turn on when removed from mount.
Direct USB charging without cables fully charges in 2 hours.
Made with bio-renewable material waterproof to 1 meter (when inserted in mount) for all-conditions reliability (IP67 Rated).

Tech Specifications
Lumen Output: High (200), Safepulse (250).
Charge time: 120 Min.
Beam Angle: 20° (flood).
IP Rating (FL-1): 67.
Depth Rating (FL-1): 1 meter.
Impact Resistance (FL-1): 1 meter.
Thermal Management: Passive Cooling.
Fast Charge: False.
Product Dimensions: 2.6" x 1.3" x 0.8"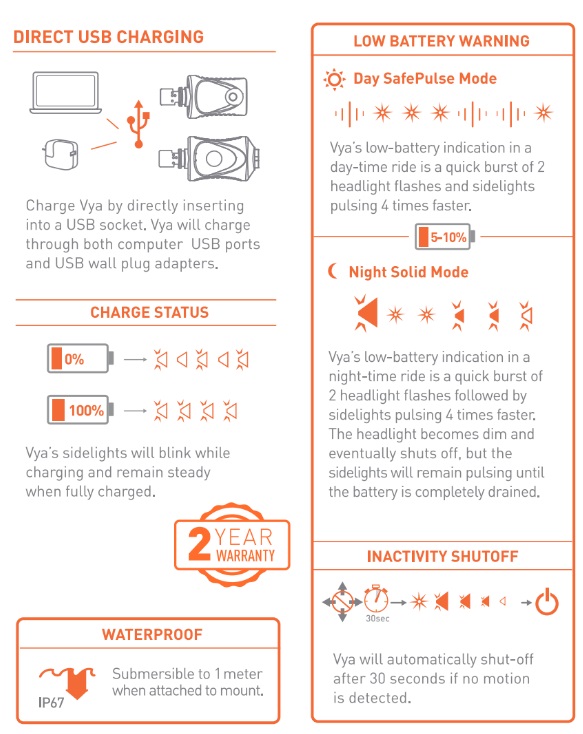 What's in the Box
Vya Pro Light
VYA HEADLIGHT MOUNT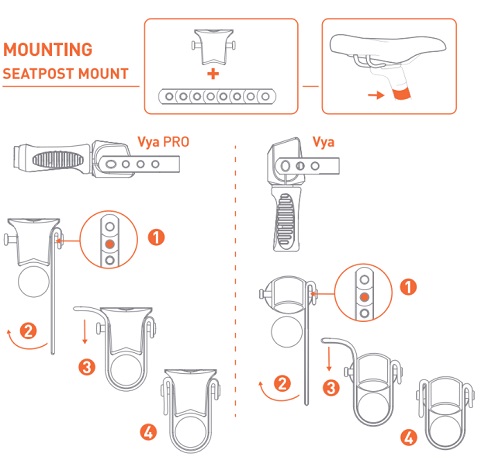 Warranty Policy


About Light & Motion Brand
The Leader in portable lighting innovation since 1989. We are a dedicated team of creative professionals, with over 30 years of experience developing the best lighting for cycling, scuba, photography and cinematography. We understand all the ways lighting enhances and elevates our experience doing and recording the activities we love.
As an American manufacturer, we demonstrate through our dailiy work a committment to building products with integrity. We have been designing and building our products in Northern California as part of our commitment to invest in our people and our community.
Light & Motion Vya Pro Bike Smart Headlight Black