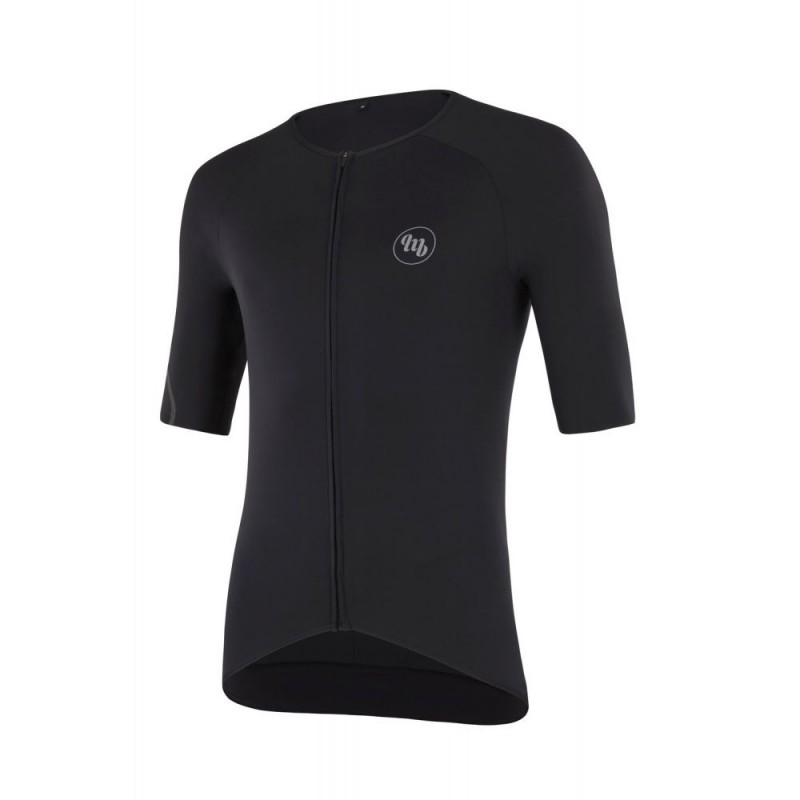 About MB Wear Comfort Unisex Cycling Jersey Black
This shirt was created mainly for the intermediate seasons (autumn – spring) combined with a windproof vest in case of need.
Composition – 92% polyester , 8% elastomero.
What is an elastomero material?
An elastomeric material is any material exhibiting elastic or rubber-like properties. Generally speaking, elastomeric materials are measured in material type, compound, and durometer (the material's hardness).
Description
Raglan sleeve shirt made with a single high quality fabric that adapts perfectly to the person's fit, being a snug and performance-oriented product.The raw cut in the sleeves give the garment even more a "second skin effect".The iridescent reflex iron-on adhesives capture the attention highlighting its elegance as well as guaranteeing greater safety.Garment equipped with concealed ykk zip with camlock slider.Neck edge, bottom of the shirt and edges of the pockets are finished with an elastic cord making the ends of the product adhere uniformly; the sleeves with raw cut give a unique comfort to the shoulders avoiding any rubbing during the exercise.Design, as always, unique and elegant.
About MB Wear Brand
MB WEAR was born out of the passion between Tiziano Dall'Antonia and Marco Bandiera, two professional bicyclists who managed to transform their many years of experience into a true advantage for their products. This is a brand invented with the purpose to create a sport product made of high quality raw materials and capable of ensuring comfort, strength and durability. Those features were put into the creation of professional products designed for the world of bicycling, running and nordic skiing, each one of them loaded with distinctive and specific features but always relying on the same philosophy.The philosophy of our products.
MB Wear Comfort Unisex Cycling Jersey Black