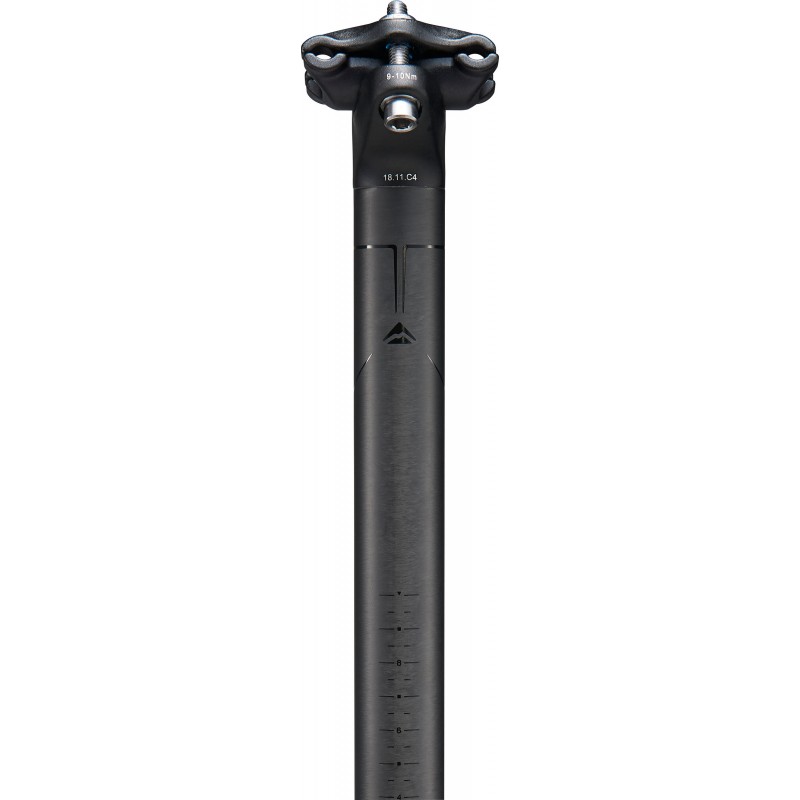 About Merida Expert CC Carbon Standard 27.2mm Seat Post
Description
A lightweight and great value carbon seatpost for XC mountain bikers, cyclo crossers and gravel bikes.
The MERIDA EXPERT CC CARBON is made from high-quality carbon and weighs just 272 g (27.2 mm) making it tough enough for the mountains and light enough for all-day adventures. The twin-bolt design is easy to use, requires low maintenance and offers plenty of adjustability to suit most styles of bikes and riders.The EXPERT CC CARBON seatpost is available in 27.2 mm and 30.9 mm and has a comfortable 15 mm offset. It is available in black with gloss details.
Specifications
ITEM-NO. : 2073073668.
DIAMETER : 27.2mm.
SETBACK : 15mm.
OFFSET : 15mm.
LENGTH : 350mm.
WEIGHT : 272g.
MATERIAL : Carbon, Alloy.
What is a post seat?
A bicycle seatpost, seatpin, saddlepole, saddle pillar, or saddle pin is a tube that extends upwards from the bicycle frame to the saddle. The amount that it extends out of the frame can usually be adjusted, and there is usually a mark that indicates the minimum insertion (or maximum extension).
About Merida Brand
MERIDA's company founder Ike Tseng (1932–2012) was a very honour-able person and a real visionary. During a trip through the USA at the beginning of the 1970s, he discovered a note at the door of a bike shop stating that no bikes from Taiwan were accepted for repair due to bad quality. This annoyed Ike Tseng – and already shortly after, in September 1972, the first production plant of his company Merida Industry Co., Ltd. was opened in Yuanlin (Taiwan).
Merida Expert CC Carbon Standard 27.2mm Seat Post