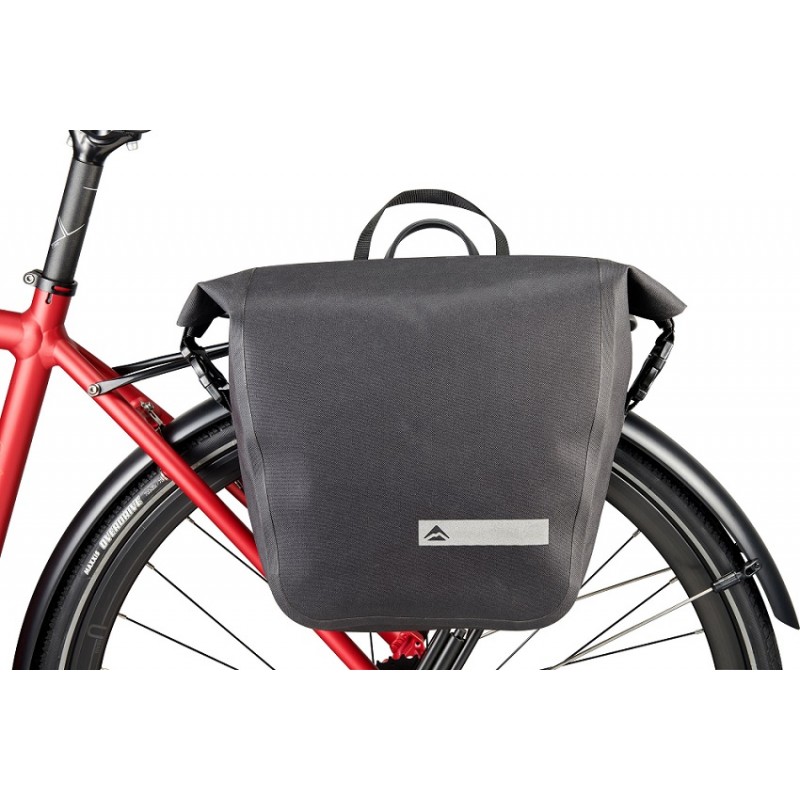 About Merida Expert City Stripe Panier Bag Black/Grey
Description
Easy and fast pannier storage solution.Our BAG EXPERT CITY STRIPE PANIER BAG is made from waterproof material and features a roll-top design for fast and easy access while making sure that water and dirt stay outside. The click-on bracket system that attaches the pannier to your rear rack is adjustable from 115 - 225 mm, allowing our pannier to be fitted to pretty much any rear rack. Two additional lower hooks attach to the lower part of your rear rack and keep the pannier securely in place.The bag's capacity is 10 litres, and it features a universal shaping so that it can be fitted on the left or the right-hand side. Reflective strips aid visibility.
Specifications
ITEM-NO. : 2276004596.
Size : Onesize.
Volume : 10L.
Height : 30cm.
Length : 30cm.
Width : 15cm.
Weight : 750g.
Material : 600D TPU.
What is the cycle panier bag?
A pannier /ˈpæniər/ is a basket, bag, box, or similar container, carried in pairs either slung over the back of a beast of burden, or attached to the sides of a bicycle
About Merida Brand
MERIDA's company founder Ike Tseng (1932–2012) was a very honour-able person and a real visionary. During a trip through the USA at the beginning of the 1970s, he discovered a note at the door of a bike shop stating that no bikes from Taiwan were accepted for repair due to bad quality. This annoyed Ike Tseng – and already shortly after, in September 1972, the first production plant of his company Merida Industry Co., Ltd. was opened in Yuanlin (Taiwan).
Merida Expert City Stripe Panier Bag Black/Grey