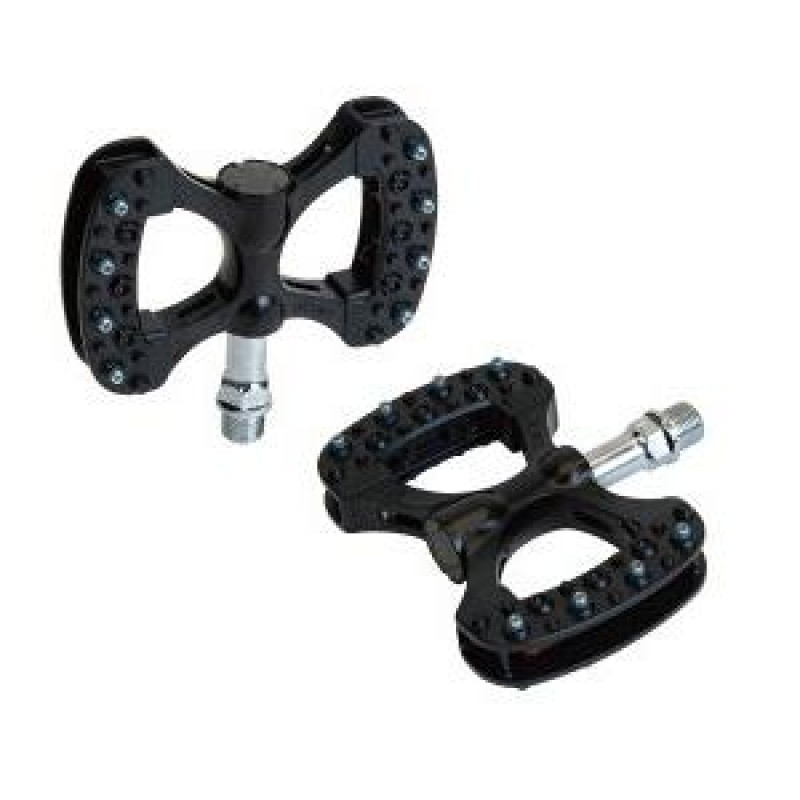 About MKS Gamma Pedal Black
Following the success of the LAMBDA commuter pedal, MKS has continued to collaborate with the Rivendell Bicycle Works and has co-developed the GAMMA gravel and mixed surface pedal.
The GAMMA is built around the proven pedal body used on the LAMBDA, paired with a new step block that has been designed in close partnership with Rivendell Bicycle Works.
Retaining a similar profile shape to the LAMBDA- consisting of an elongated double-sided step block that's narrow enough to handle corners. We have "squared off" the pedal, reduced the stack height (lowered the overall height), and added 32 replaceable anti-slip grip pins to proved an outstanding hold on a remarkably stable pedal.
The GAMMA is available in two colours, shot blasted natural aluminium or shot blasted black paint.
Specification
Colour : Black
Body : Alloy
Plate : Alloy
Size : W78×L118
Step Area : Double sided
Bearing : Cup & Cone Bearings
Toe Clip : Non
Reflector : Installed
Purpose : OFF-ROAD/ CITY
Weight of Pair : 450g
Note : Size:W=width(mm)、L=length(mm)
About MKS Brand
MKS is the pedal brand of Mikashima Industrial Company Limited. The Mikashima Industrial Company was founded as an aircraft component manufacturer in 1943, converted its operations to pedal manufacturing in 1946, and was established as a limited company in 1949. Our 70+ years of operations have been managed by the Ogino family, and is currently led by President Toshiyuki Ogino with guidance from Chairman Kohichro Ogino.
MKS Gamma Pedal Black