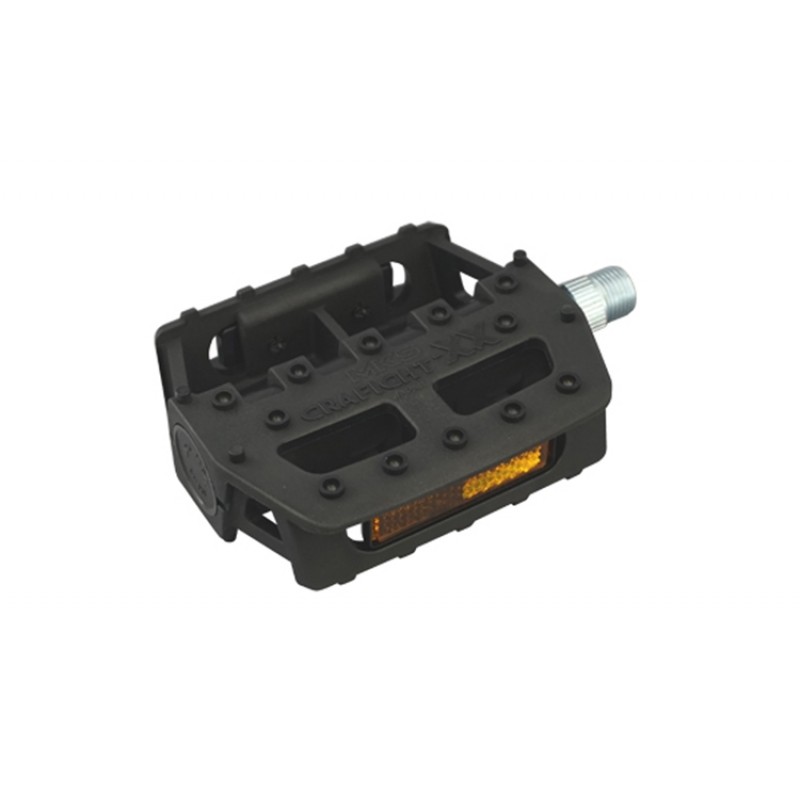 About MKS Grafight-XX Bicycle Pedal Black

The "GRAFIGHT-X" pedal, which was released in 1982 and gained immense popularity among BMX and motocross users.
"GRAFIGHT-XX" has evolved into a modern version while retaining the characteristics of the time in response to many reprint requests.
The glass fiber plastic body realizes a highly durable pedal.
Excellent waterproof and dustproof properties due to the adoption of a labyrinth structure dust seal.
High rotation and high durability due to cup and cone bearings, and maintenance is possible.
Twenty-one protrusions of three different shapes are arranged on one side to provide a stable grip.
Concave design that is slightly concave toward the center of the pedal. In addition, the design effect that the rear of the pedal is slightly higher strengthens the role as a ""step"" when stepping on with the entire foot.
In addition to the conventional BMX / MTB applications, this flat pedal is ideal for use with electrically power assisted bicycles and E-BIKE.
Specifications :
Color : Silver
Body : Glass fiber reinforced resin
Size : W102 x L87
Tread : Both sides
Bearing : Ball bearing
Toe clip attached : Impossible
Reflector : Installed
Recommended use : Touring,Off-road,City ride
Weight : 440g
About MKS Brand
MKS is the pedal brand of Mikashima Industrial Company Limited. The Mikashima Industrial Company was founded as an aircraft component manufacturer in 1943, converted its operations to pedal manufacturing in 1946, and was established as a limited company in 1949. Our 70+ years of operations have been managed by the Ogino family, and is currently led by President Toshiyuki Ogino with guidance from Chairman Kohichro Ogino.
MKS Grafight-XX Bicycle Pedal Black