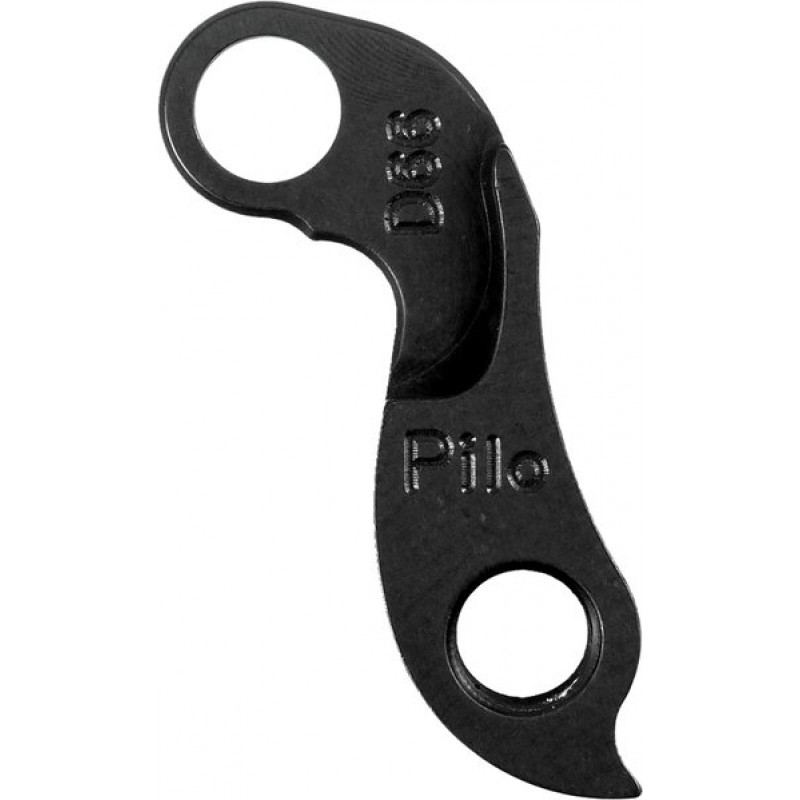 About Pilo D66 Derailleur Hanger Fuji Nevada Team Issue Carbon Concept Black

This Rear gear mech hanger, derailleur hanger manufactured by PILO.
Material: CNC machined 6061 T651 aviation aluminium.
Color: black, anodized finish.
Pilo catalog number: D66
D66 Description:
Number of fasteners : 1
Mounting on frame : Outer
Shape of Step : Curved line
Axle diameter : 5 mm (Standard QR)
Material CNC aluminium
Derailleur mount type : Standard mount
CNC Technology
CNC machined derailleur hangers are made from highest quality aircraft aluminium mark 6061 T651 with high precision. Because of it, CNC derailleur hanger improves gear shifting. Comparing Cast replacement or OEM derailleur hanger with CNC machined hanger, CNC replacement derailleur hanger dropout noticeably looks greater because of nice black anodized finish. Of course price is a bit higher than the cast derailleur hanger, but quality and functionality worth it.
Compatible with the following models:
FUJI:
2015 Supreme 2.1, 2.3, SST 2.3, SST 1.1, SST 2.1
2008 : Nevada 4.0, Team, Team Issue
2006 and 2007 Fuji Team Issue frame
2006 and 2007 Fuji Team Carbon Concept frame
What is a derailleur hanger and how does it work?
Derailleur hangers (also known as hanger dropouts) are bike components that are screwed on the frame's rear ends, in order to be joined to the derailleur itself. They have a very basic, and important, function – keeping the derailleur in place and preventing it from breaking in the event of an impact. Thanks to this little piece, you will prevent severe or irreparable damage to your bike's derailleur. They are normally made of cold forged 6061 aluminium, don't offer resistance and can be bent or broken easily with a light impact.
At Wizbiker, we recommend that you buy a spare derailleur hanger together with your bike. If you hadn't thought about it then, you can do it later. You can either find the original one or a compatible one, because most frames by the main cycling brands are produced at the same factories, and their geometries are similar.
About PILO Brand
Pilo was established in Israel and began manufacturing at the end of 2003. As a trusted subcontractor for original equipment manufacturers (OEMs), we produce a range of parts for use in diverse industries.Pilo precision machining specializes in producing high-end bicycle parts. We have a huge selection of derailleur hangers, with over 750 different types and growing every day. We also offer state of the are 6061 aluminum bash guards in various sizes and colors.
Pilo hangers are made with 6061 T651 "aicraft" anodized aluminium, 100% made "with love" in Israel. Finish and stiffness of Pilo hangers are significantly hihger than the majority of original cast hangers.
Pilo D66 Derailleur Hanger Fuji Nevada Team Issue Carbon Concept Black