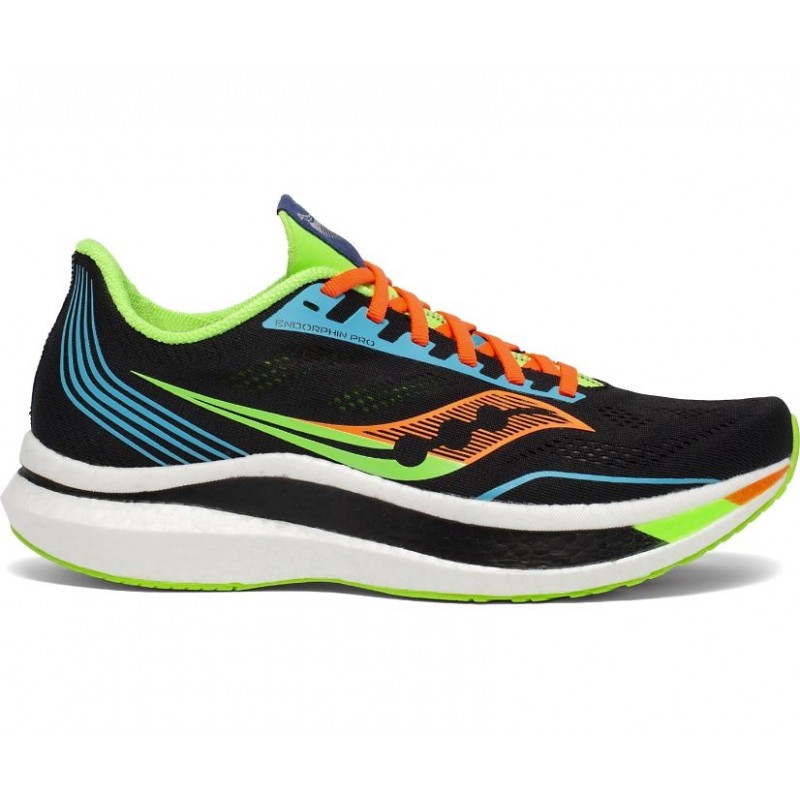 We are now shipping to all ALL ZONES across India. Further, NO DELIVERY is permitted in CONTAINMENT ZONES as of now.
About Saucony Endorphin Pro Men's Running Shoe Future Black
Product Details
You, but faster.
The Endorphin Pro was engineered with elite athletes and built to give everyday runners a fair advantage at the starting line. Simply put, these shoes weren't made for chasing personal bests, they were made for smashing them.
Overview
Take a peek at the fastest shoe we've ever built.
Roll to a new PB : Our revolutionary SPEEDROLL technology propels you forward with the feeling of continuous momentum, so you can run faster, not harder.
Fastest to the Finish : With ultralight, springy PWRRUNPB cushioning and our signature s-curve carbon fiber plate for powerful transitions, running at top speed feels easier, so you get to the finish line faster.
Race Day Fit : FORMFIT wraps the foot in 3D Overview comfort and ensures a personalized, locked-in fit for optimal performance.
Specifications
Shoe Category : Speed
Offset : 8mm (33.5/25.54)
Weight : Men 7.5oz (213g)
About Saucony Brand
Founded in 1898, Saucony's earliest roots trace back to the banks of the Saucony Creek in Kutztown, Pennsylvania. Today, Saucony is a leading global running lifestyle brand that fuses performance, innovation, and style to produce award-winning footwear and apparel for runners everywhere.
Saucony Endorphin Pro Men's Running Shoe Future Black