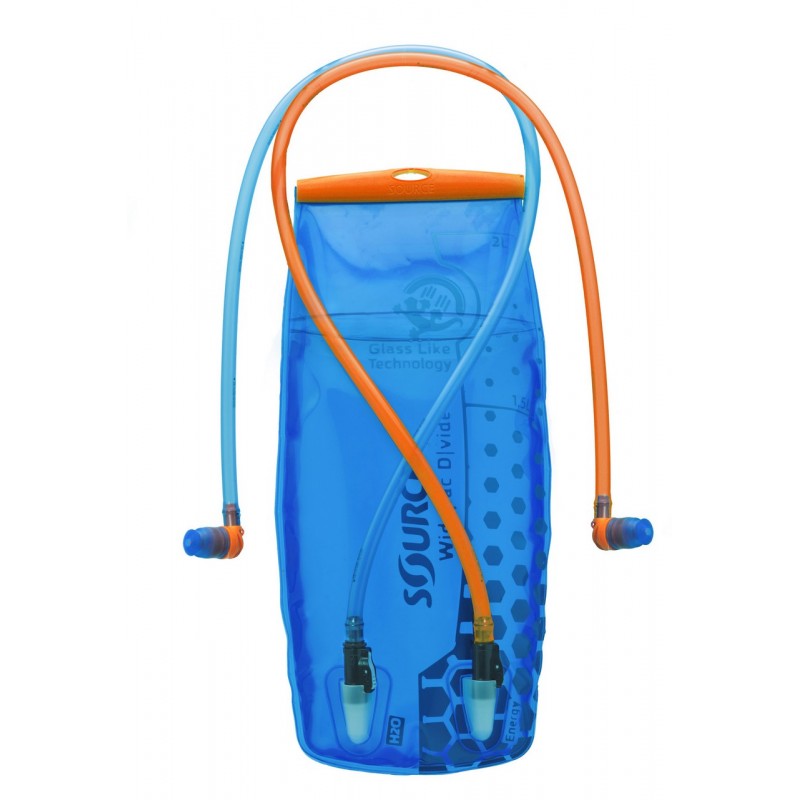 Source Widepac Divide 3L Hydration Bladder
Carry two drinks in one Hydration System! The Widepac D|vide features two separate compartments (flexible in size) and you have both drinks available at all times.
2 Drinks in 1 Hydration System
Our brandnew D|vide provides two sources of hydration (water/isotonic drink) in one hydration system with two flexible compartments and two drinking valves. - SourceOutdoor.com Special Offer: Get 2 MAGNETIC TUBE DOCK CLIPS for the price of 1 with your D|Vide!
Two drinks – no extra equipment
With the Widepac D|Vide we proudly introduce a solution how to carry two sources of hydration – without adding an extra piece of equipment, without adding weight or bulk to your hydration pack. The SOURCE Widepac D|vide offers two drinks in one Widepac - with all the unique advantages of SOURCE Hydration Systems.
Flexible split
The size of the compartments is flexible. Both of the compartments add up to the full capacity of the bladder (2L or 3L depending on your choice of D|vide size). Meaning it gives you maximum flexibility to split the capacity according to your needs.
Two color coded tubes, two drinking valves
On the trail, there's no need to switch or manipulate your bladder to switch SOURCE of Hydration: Just grab the red drinking tube for isotonic or the blue for pure water.
Unique SOURCE Hydration Technology
Widepac™ closure (U.S Patent No. 7,648,276,B2)
User-friendly Widepac™ slide closure allows easy filling, cleaning, draining, and ice insertion. Airtight seal.
Glass Like™ Film Technology
A multi-layer Polyethylene film utilizing SOURCE's Glass-Like™ technology, which prevents bio-film build up making the system self-cleaning. SOURCE's Glass-Like™ Film is 2000% smoother than standard TPU films, with virtually no difference from glass itself.
Taste Free™ System
Co-extruded PE film retains pure liquid taste with no plastic flavor. BPA and Phthalate free.
Grunge-Guard™ Technology
Inhibits bacteria growth on the reservoir and drinking tube surfaces for the life of the system. Technology utilized FDA-approved and EPA-registered anti-microbial agent.
Easy Care & Low Maintenance
Glass-Like™ technology combined with Grunge-Guard™ technology represent a new generation in hydration systems, in which cleaning is no longer an issue. Simply refill and drink again and again without special care. Water will remain fresh for days and even weeks.
Specs / Material
Triple layer taste and odor free PE film with anti microbial agent
Co-extruded tube
PP, PE & POM injected plastic parts
Silicon bite valve mouthpiece
About Hydration Systems
The hydration system is a must have biking accessories for longer rides or a sport which requires intensive efforts. A good hydration system is easier to maintain, easier to fill and empty, easier to carry without much hassle, carry ample amount of water(2 or 3L) and provide a hands-free convenient valve to drink from. Some hydration systems are pouched inside a bag which may or may not be reflective in nature(as you go up the price range), comes with pockets to carry spares and energy bars and money and other essential items. Hydration System allows outdoorsy to indulge in the game completely yet keeping his/her hydration needs fulfilled.
About SourceOutdoor
SOURCE is a groundbreaker in Hydration Systems and Sandals technology and is well known for tactical gear, hiking sandals, hydration and travel accessories for over 20 years. SOURCE (Shoresh in Hebrew) was founded in 1989 by Yoki Gill and Daniel Benoziliyo and now employs more than 200 workers. It has always been a groundbreaker in hydration and sandal technology and is well known in the Tactical Gear, hiking sandals, hydration and travel accessories categories worldwide for over 20 years, currently selling in more than 25 countries, including the United States, Canada, United Kingdom, France, Germany, Switzerland, Australia, South Africa and many more.
Source Widepac DIvide 3L - 2 in 1 Hydration Bladder