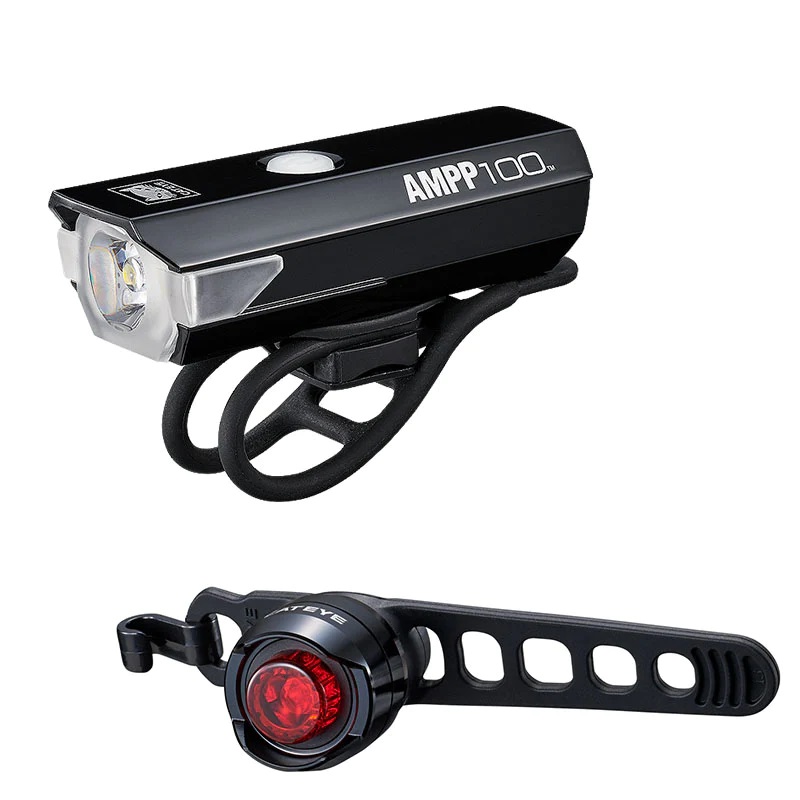 About Cateye AMPP100/ORB RC HL-EL041/LD160RC Lampset
The AMPP100 is an eco-friendly rechargeable 100 lumen light. It's lightweight and compact build makes it an ideal choice for all riders.
Features
Compact rechargeable headlight (100 lm).
Easy to attach and remove, new rubber strap mount.
Excellent side visibility.
Low battery indicator.
USB rechargeable (Micro-USB cable included).
Mode memory function.
Two light modes (Constant / Flashing).
Specifications
Recommended Use : Commuter, Road, MTB (Off-Road).
Brightness : Up to 100 lumens.
Power Source : Li-ion rechargeable battery (3.7V-800mAh).
Mount : Fork or frame mounting.
Rechargeability : Yes.
Charge Time : approx 3.5hrs (0.5A).
Run Time : Constant mode 100 lumens:approx 3.5hrs/Flashing mode 100 lumens:approx 35hrs.
Beam Modes : High solid mode, Low solid mode, High flash mode, Low flash mode.
Protection Rating : IPX4.
Color : Black.
Dimensions (H x W x D) : 86 x 35 x 33 mm (excluding the rubber strap).
Weight : 62 g (light unit and battery).
How do I choose a cycle light?
The light you choose for your bike should be bright enough for people to see you in the dark but not so bright that it distracts the drivers driving towards you.
About Cateye brand
CatEye is the leading manufacturer of cycle computers, lights and reflectors to cyclists in the world. Founded in 1954 in Osaka, Japan, CatEye has always been a leader in innovation and technology.In 1964, CatEye created the first flashing lamp for bicycles. CatEye went on to create the very first bicycle head lamp using white LEDs in 2001. The company is truly a world leader in lens and reflector technology.CatEye's first cycle computer was released in 1981. Now we offer a full range of computers to meet the demands of cyclists around the globe. Always at the cutting edge of technology, we were among the first companies to integrate altimeter, heart rate, and cadence technology into cycle computers.
From it's head office in Osaka, Japan, CatEye manages two factories in Japan and one in China, and is an ISO approved manufacturer. On the leading edge of technology, CatEye continues to innovate and lead the industry in bicycle electronics, and is committed to safety and comfort in cycling.
Cateye AMPP100/ORB RC HL-EL041/LD160RC Lampset