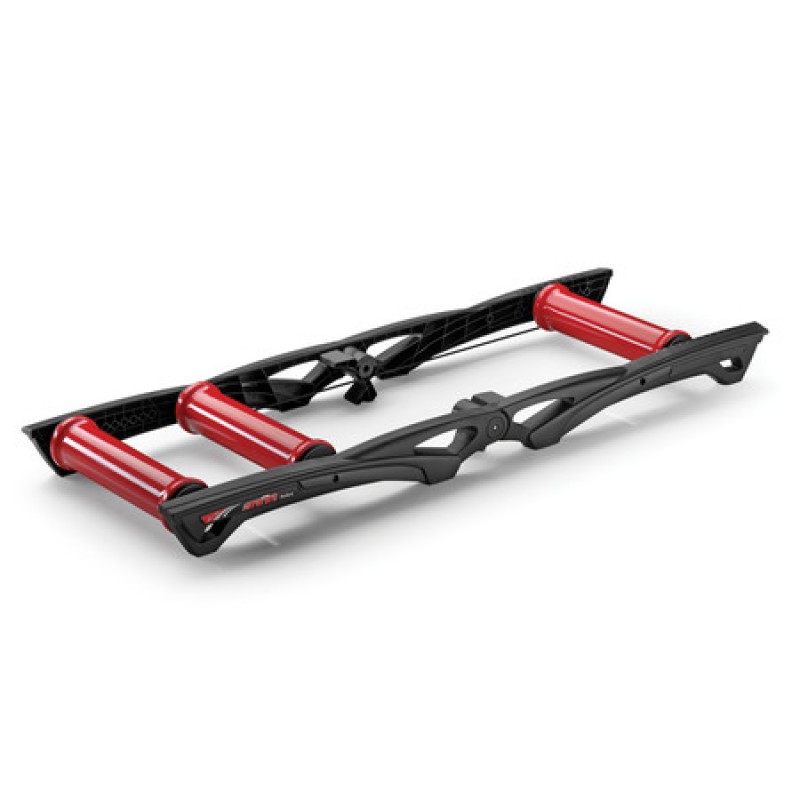 About Elite Arion Parabolic Folding Bike Roller
Roller offering maximum practicality with optimum performance and reliability.
Lightness and simplicity so you can focus on training​
Very light frame (approx. 7 kg), ultra strong, in glass fibre reinforced polyamide.
The parabolic rollers, 85mm in diameter in the middle and 100mm at the sides, make it easy to keep balance on the bicycle.
Maximum control and ease of pedalling, the wheel is guided towards the middle of the roller.
The perfectly smooth surface of the rollers and the compound in anti-static plastic material reduce noise and tyre wear.
Use the Misuro B+ sensor for compatibility with the My E-Training or third party softwares.
Platform incorporated in the structure for easier mounting and dismounting.
Compatible with road bikes and MTBs.
Compact and foldable, making it easy to store.
Dimensions: open 141x49,5x16 cm, closed 73x49,5x22 cm.
My E-Training - Mobile version*: an exciting and technically sophisticated virtual coach that travels with you whatever your destination. Manage power, heart rate, speed, time and distance directly from your smartphone or tablet with the My E-Training.
My E-Training includes:
My RealVideo: train with Elite RealVideos and download hundreds of free user-created My RealVideos.
Base Training: constant power training sessions**, levels, pre-set programs.
Training test: an evaluation test that helps you create month-long personalized indoor training programs.
Maps races: create races the world over with Google Maps.
Easier training program creation: all-new graphics editor simplifies program creation.
Video Playlist: create a playlist from training videos on your device.
Share results: to track of your performance over time, training data can be saved, exported (CSV - comma separated values, Strava Tcx format) or shared on social media.
*The roller is nowadays compatible only with the mobile version (iOS and Android) of My E-Training software. Turno will become compatible with Desktop version (Mac and Windows) soon.
Arion digital roller
Arion Digital, the first electronically controlled roller with integrated resistance unit managed by a wireless console to be placed on thehandlebar, is here filmed during a test in Aigle, UCI's headquarters, with the Swiss track team.
Elite Arion Parabolic Folding Bike Roller