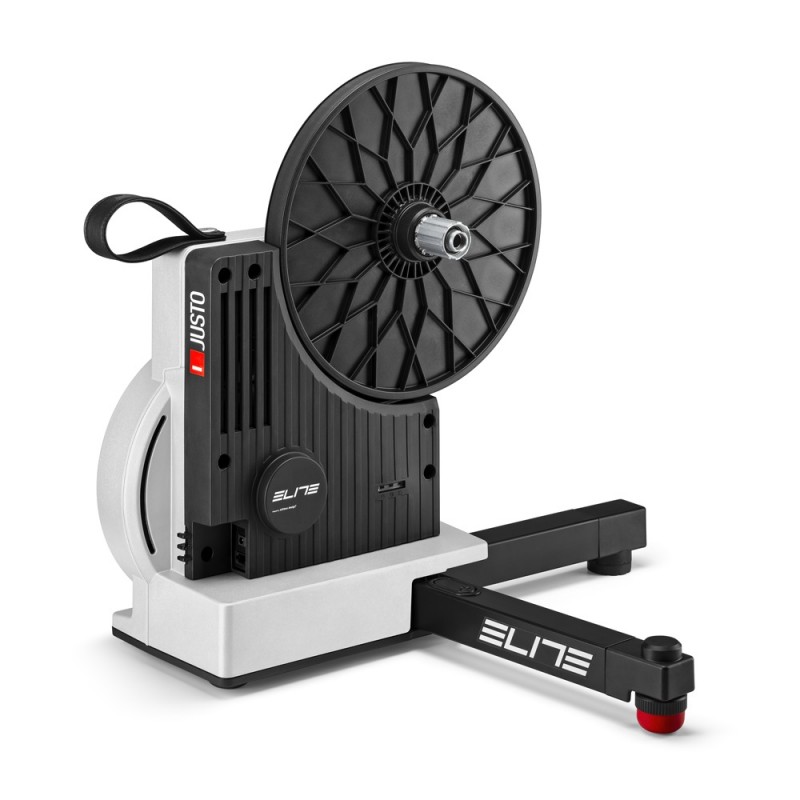 About Elite Justo Turbo Home Trainer
Justo
Justo is the new top-level trainer of the Elite pack of interactive trainers.
Pinpoint accuracy, inclines up to a 24% slope, integrated power meter, auto-calibration, redefined stand-alone modes. Justo is the home trainer to challenge yourself and get more from your bike workouts.
Justo is the most advanced tool in our home trainer catalog: you get to ride your bike and train right at home, with high realism and thrill, while challenging your cycling skills with targeted programs and the myriad of virtual races available on the indoor cycling apps.
Integrated power meter: maximum precision
Justo measures the actual power delivered with an integrated power meter, the OTS (Optical Torque Sensor).
Thanks to its internal power meter, the trainer can immediately measure the power you exert on the pedals with an extraordinary accuracy of < 1%.
In addition to added accuracy, Justo features new ERG Mode data smoothing options, including the "Easy Start" feature to make it easier to start and resume an interval after you stopped pedaling.
When the flywheel stops rotating, this feature will automatically remove the resistance until you start pedaling, giving you a few seconds to move your legs before re-applying the resistance that you set for your intervals.
Brutal climbs up to 24% incline
Justo can automatically manage the resistance while you are training, simulating up to an incredible 24% maximum incline. Hone your climbing skills with a home trainer that can give you a realistic feel, fun and immersivity, even during the most intense and demanding climbs.
The trainer is also compatible with the Rizer, Elite's incline simulator with steering that can move your bike uphill up to +20% and downhill up to -10%, allowing you to pedal indoors as if you were really on Mont Ventoux.
The upgraded built-in power meter will also make it easier for you to access the super-tuck position during your Zwift races.
Enhance your pedaling feel with the Elite Flex Feet
Justo also includes the new Flex Feet, which aim to make your pedaling sensation even more realistic based on the rigidity of the model you pick.
The interchangeable feet will allow you to replicate the natural pressure and oscillations of the bike, adapting your pedaling on the home trainer to your outdoor pedaling style.
By adhering to the natural biomechanics of the muscles during the athletic movement, you can reduce muscle fatigue and significantly improve the effectiveness of your home workouts.
Auto-calibration
Justo can self-calibrate, automatically calibrating itself at the most appropriate time without requiring the athlete's manual intervention.
This new function makes your workouts on this home trainer precise and immediate from the first use.
Use it with all indoor cycling software platforms
Justo is also part of the range of interactive trainers with dual ANT+™ FE-C and Bluetooth® communication protocol, meaning that the trainer has complete interaction with apps, software, computers, smartphones, tablets, and Apple TV.
With Justo, you even get a free 12-month subscription to the Elite My E-Training app.
In the package, you will also find other coupons to take advantage of a trial period for the most popular indoor cycling platforms such as Zwift, TrainerRoad, Rouvy, Kinomap or Bkool.
Bluetooth dual channel and bridge function
Justo is equipped with dual Bluetooth channels to connect up to two Bluetooth® devices at the same time, such as a bike computer while connected to the training software.
With the new Cardio Bridge and Cadence Bridge functions, you can also connect a heart rate monitor or cadence sensor to the trainer while you are connected to the training software because the trainer will function as a bridge and send your data to the FE-C ANT+ and FTMS BLE protocols. This is useful with some platforms (namely Apple TV) that can only support two concurrent Bluetooth Smart sensors.
Justo is also able to create a "virtual" HR monitor in case you are using programs that are not compatible with the protocol of your "real" HR monitor, ie you have an Bluetooth® HR monitor while using a ANT+ device. In this case, Justo will switch the protocol and transmit the same data coming from the HR monitor to the program connected to your device.
Innovation through more sustainable design
The solid, compact design is the result of a new collaboration with Adriano Design to achieve an increasingly integrated ecosystem of indoor cycling products.
In addition to its racing spirit, the creation of the Justo aims to adapt to the increasingly pressing imperatives of sustainability and environmental impact that all businesses need to focus on for a better future. Justo's structure is built using plastic components from environmentally responsible processing according to a circular production model aimed at reducing the use of raw materials right from the design phase.
That's why we made this trainer with over 46% of pre-consumer recycled plastics on the total plastic materials used to make every Justo.
Stand-alone modes
Justo presents two new stand-alone modes to use the trainer even when it is not connected to software or plugged in.
If plugged in but not connected, you can still simulate pedaling on the road by setting an incline value between 0% and + 24% on the My E-Training app in advance. The home trainer will maintain this value even when it is disconnected from the app.
If the trainer is neither connected nor plugged in, you can adjust the resistance level by setting a value between level 1 and 16 on My E-Training beforehand.
Maximum compatibility
Justo is compatible with road, gravel, and mountain bikes, with its 130-135 x 5 mm quick-release hubs, and 142 x 12 mm thru-axle hubs (adapters included in the package).
On www.shopelite-it.com you can also find adapters to ensure compatibility with 135 x 10-12 mm hubs (code 1014306) and for the Boost 148 x 12 mm (code 1014303) and Super Boost 157 x 12 mm (code 1014346) rear hubs.
Justo can immediately accommodate Shimano 9/10/11/12 speed road cassettes and is compatible with Shimano 12 speed MTB (with Micro Spline body, code 1014315), Campagnolo 9/10/11/12 speed (with body code 1014233), SRAM NX 12 speed with Shimano body and SRAM 12 speed (with XD / XDR body, code 1014279).
The specific freehub bodies for Campagnolo, SRAM XD / XDR, SRAM NX 12 speed and Shimano 12 speed micro Spline are available
Pedalling Analysis
The Pedalling analysis is available on top of the range Elite interactive home trainers, including the Justo.
This function will help you analyze your power output throughout the whole pedaling movement via a 24 points-system scale.
You can display with this function the value of immediate power output throughout the pedaling movement and, by doing so, evaluate mechanical efficiency of your movement so you can adjust and correct where necessary.
The pedaling analysis function is available for purchase in Elite's My E-Training software.
Cadence, Speed and Power Data
All Elite trainers rely on immediate transmission of power, speed and pedal cadence data in order to let you achieve the most specific and accurate training plan.
To measure cadence, our trainers make use of practical sensorless technology capable of detecting the pedaling rate without having to install sensors on the bike frame. Trainers like Justo measures cadence via power analysis by means of their innovative in-built power meter OTS.
About Elite
Elite is a firm of people in love with cycling, and has been proposing cutting-edge and technological products for the cycling world for over 30 years.
Elite Justo Turbo Home Trainer