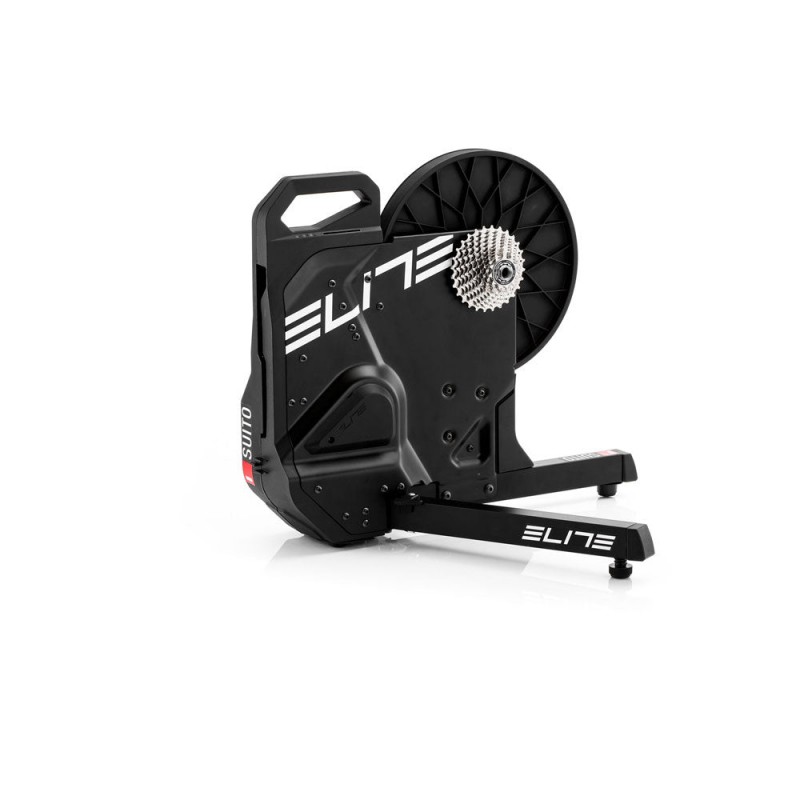 About Elite Suito Home Trainer
SUITO IS THE LATEST MAJOR INNOVATION IN ELITE'S INDOOR BIKE TRAINER RANGE
Powerful, solid, and quiet, Suito is an interactive home trainer designed to offer you an easy, realistic, and accurate indoor bike training experience. Through a quick and easy Plug&Play setup and a thin and compact outline, Suito ensures max compatibility with most bicycles, setting itself as one of the most performing and easy-to-use home trainers that a cyclist could hope for. Powerful, stable, accurate. Ready for use. Are you ready?
DIRECT TRANSMISSION
If you want to get the best from your indoor bike trainer workouts, you need to choose the best option - that is a direct-drive home trainer. Suito is part of the range of hometrainers with direct transmission of power output, which has the advantage to ensure more accuracy, no skipping even during the most intense sprints, quietness, and no tire wear, precisely because this type of home trainer does not involve any direct contact of the bicycle and the roller. The streamlined and compact design of the Suito ensures compatibility with most bicycle models on the market. Download the technical specifications at the bottom of the page to find out which bicycles are compatible with the home trainer and all the adapters included in the box!
EASY TO TRANSPORT, PRACTICAL TO POWER UP
Suito features a practical integrated handle, designed to let you easily transport your hometrainer anytime, at home or at the gym. Another key feature of the Suito is the cable channel on its back, designed to protect connectors and avoid any accidental disconnection.
QUIET
As it's a direct transmission home trainer, Suito does not involve any contact between wheel and roller, so every indoor bike training session is really quiet. The compact structure that leaves no room for any resonance and the perfectly balanced flywheel that avoids even the slightest vibrations ensure the quietness you're looking for in your bike training workouts. The only noise you'll hear when pedaling on the hometrainer will be the bike's chain when you shift gears while training.
READY FOR USE
The key feature of the Suito is its quick Plug&Play configuration, ready for use. It's perfect to be used right away, out of the box. Ready to pedal?
FEATURES
PLUG & PLAY
Among Elite's interactive hometrainers range
Suito is innovative as it features a practical Plug&Play configuration
designed to let you experience right away a quick and easy indoor bike training session.
EXCLUSIVE DESIGN
The sturdy steel structure is another distinctive feature of this home trainer .
it's ideal to ensure stability and durability even during the most intense sprints.
Elegant and aggressive, solid and powerful - Suito features a wider support base with pre-assembled legs, designed to automatically lock in place when unfolded.
It's everything you need to start your indoor cycling training workouts as quickly as possible.
Moreover, the streamlined design ensures compatibility with various bicycle models and sprocket sets on the market. Suito is also designed to ensure reduced clutter wherever you are: its slim profile, integrated handle, and reduced size make it easy to transport and store it, no need to worry about how much space it'll take up.
PRECISE AND POWERFUL
How many advantages could we offer you to further your goals at each workout? The answer is power, accuracy, interactivity.
Suito simulates slopes up to 15% with ± 2,5% accuracy.
These numbers put it squarely among our most performing interactive home trainers.
With more than 1900 watts resistance at 40 km/h speed, Suito is definitely one of the most powerful hometrainers available.
the ideal tool to release all your strength even the most demanding sprints.
It also features many functions designed to supply a complete power measurement system, to give you an accurate workout experience.
POWER METER LINK (PML)
It's a function that lets the hometrainer employ an ergometer that's already installed on your bike as a power source.
SPINDOWN
A calibration procedure for the home trainer that takes into account all friction values that change over time and during use that influence brake's accuracy and compensates its effects on the resistance generated by the home trainer.
TEMPERATURE COMPENSATION ALGORITHM
A function that lets the hometrainer compensate the variations due to brake overheating and take the resulting data into account when calculating power.
TRAIN ON ZWIFT AND MY E-TRAINING
Through the cooperation between Elite and Zwift, everyone purchasing the Suito will enjoy a free 1-month subscription to Zwift and a free 12-month subscription to My E-Training, available on desktop and mobile.
This is another home trainer that's in the range of ANT+™ FE-C & Bluetooth interactive home trainers that interact with every app, software, computer, and device (smartphones and tablets) via iOS, Android, Mac, IOS and Windows.

Just choose the software, select the course or training program and start pedalling on your bike. Suito will automatically adjust resistance.
Discover all the software you can use with Suito:

other than Zwift and My E-Training, you can also manage it with all other indoor cycling platforms such as TrainerRoad, Kinomap, Rouvy, The Sufferfest, Bikevo and many more.
SENSORLESS CADENCE
All hometrainers by Elite immediately send power, speed and cadence data, thus setting themselves as effective instruments to build an accurate training program and replicated outdoor workouts as much as possible. Cadence is measured via a practical sensorless technology (that is, no sensors to apply to your bicycle) and is calculated on the Suito as a function of speed variations.
SPECIFICATION
Slope simulation - 15%
Accurate measurement - 2.5%
Power output - 1900w
About Elite Brand
Elite, a company of cycling enthusiasts, has been offering unique and cutting-edge products to the cycling world for forty years.
Elite Suito Home Trainer