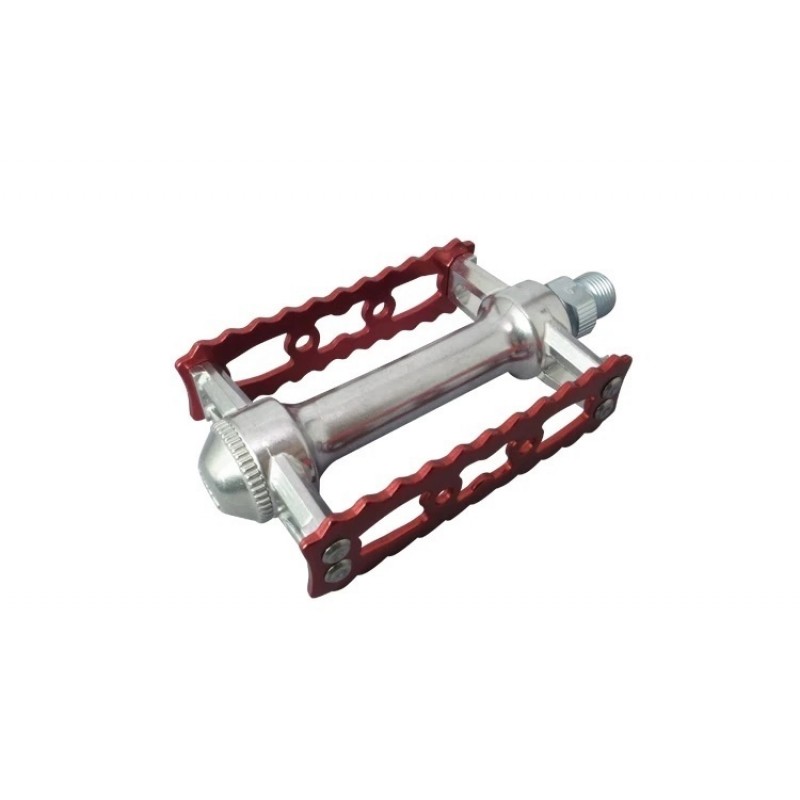 About MKS Sylvan Touring Pedal Red
The Sylvan Touring pedal has the largest step area in the Sylvan line, offering various foot position over a 94X63mm area to prevent fatigue. While the pedal is double sided, it also accepts toe clips and straps to prevent slipping. This pedal works well for a wide variety types of shoes, as the cage plate tooth profile is grippy but not particular aggressive.
The Sylvan Touring pedals are finished with a silver colour pedal body around a zinc plated axle, and are available with silver or black anodised cage plates. Pedals with Gold, Blue, and Red plates are available while supplies last.
The Sylvan has remained a steadfast go-to for cyclist over the last four decades.
Features
Proven Design
User-Serviceable
High-Value
Cold forged Japanese steel axles
Hand-adjusted cup and cone bearing system
Specifications
Colour : Red
Body : Alloy
Plate : Anodised Alloy
Size : W94 x L63
Step Area : Double sided
Bearing : Cup and Cone Bearings
Toe Clip : Possible
Reflector : Possible (Option)
Purpose : TOURING/ CITY
Weight of Pair : 391g
Note : Size:W=width(mm), L=length(mm)
About MKS Brand
MKS is the pedal brand of Mikashima Industrial Company Limited. The Mikashima Industrial Company was founded as an aircraft component manufacturer in 1943, converted its operations to pedal manufacturing in 1946, and was established as a limited company in 1949. Our 70+ years of operations have been managed by the Ogino family, and is currently led by President Toshiyuki Ogino with guidance from Chairman Kohichro Ogino.
MKS Sylvan Touring Pedal Red