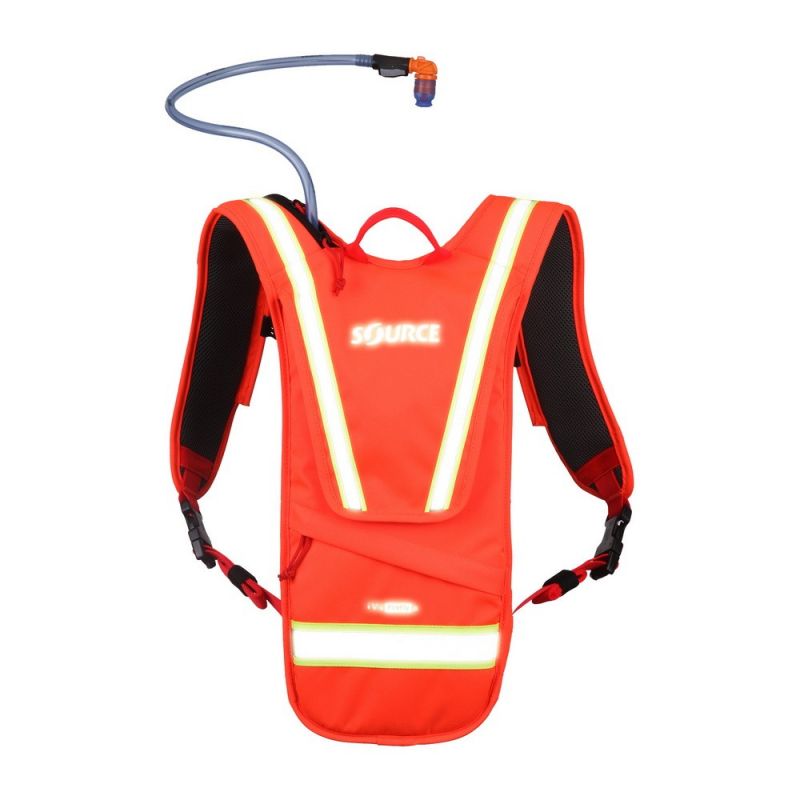 We are now shipping to all ALL ZONES across India. Further, NO DELIVERY is permitted in CONTAINMENT ZONES as of now.
About iVis Firefly Hydration System
Source is the repertoire of one of the best hydration backpack not just in India, but all over the world. Source Firefly iVis Hydration Pack is for those who like to live and play wild. Day or night, rainy or chill. Firefly iVis hydration pack with its fluorescent fabric and reflective tapes which not only satiates your hydration need, but also ensures you're seen, seen well on the road, visible to the traffic.
Running, cycling, hiking, Firefly iVis is a great choice if all you need to carry is water and few essentials. iVis Pack Features insulated shoulder strap pouch for the drinking tube - from where you'll get your fuel.
Durable fluorescent fabric and reflective tape - ensures you're visible in the dark of the day or at night.
Fill, retrieve or do whatever you please, with easy access to filler cap, Firefly iVis is delicately designed for effortless solution to all your pesky problems. Firely iVis includes WXP Low profile reservoir system which is a technical name for the tough 3 layer construction with Glass-like PE liner which means taste-free and fresh water, even when the water is stored for days.
Leak proof slider wide opening and external fill port ensures easier cleaning. Self-sealing connect hose fitting offers push button convenience, QMT has a built in shut off mechanism which allows UTA or valves to be disconnected without spilling or dripping.
Top Features Of iVis Firefly Hydration System
iVis Pack Features
Insulated shoulder strap pouch for the drinking tube – you'll find the Helix valve hanging in here. Sip gently.
Hard-wearing, durable Fluorescent fabric – along with reflective strips for maximum visibility.
Reflective tape (switch off the lights in the above picture to see it!)
Easy access to filler cap behind protective cover – no need to run your hand over your back to hydrate yourself.
Quick Release safety mechanism.
Ergonomic low profile design – you'll not feel it on your back. No hindrance to what you're doing.
External easy opening filler port fits most pump-style water filters – ports for compatible accessories like water filters.
Tough Nylon shell – it's durable, I promise.
WXP Hydration Features – A compartment where the liquid is stored.
Taste-Free System – No matter if the water is stored for days, even weeks.
Bacteria-Free System – Inhibits bacterial growth.
Care-Free System – Just fill, drink and refill. It can last for years to come at a fairly low maintenance
FDA Approved Materials- All materials in contact with the drinking water are FDA approved. Guaranteed safe and taste-free drinking water.
Angled Valve – Rotates 360 degree for comfortable valve and mouth orientation.
Widepac Wide Opening Access (Bladder) - Patented slide closure for easy filling, draining and cleaning. Airtight Seal! (U.S. Patent No. 7,648,276,B2)
Large NC Filler Cap - Air tight, low profile one hand operated. Compatible with commonly used personal filtration systems.
Specification
iVis Firefly Specs

Weight:

0.628 Kg



Dimensions:

44cm x 23 cm



About Hydration System
Hydration system is a must have biking accessories for longer rides or a sport which requires intensive efforts. A good hydration system is easier to maintain, easier to fill and empty, easier to carry without much hassle, carry ample amount of water(2 or 3L) and provide a hands-free convenient valve to drink from. Some hydration systems are pouched inside a bag which may or may not be reflective in nature(as you go up the price range), comes with pockets to carry spares and energy bars and money and other essential items. Hydration System allows outdoorsy to indulge in the game completely yet keeping his/her hydration needs fulfilled.
About SourceOutdoor
SOURCE is a ground breaker in Hydration Systems and Sandals technology and is well known for tactical gear, hiking sandals, hydration and travel accessories for over 20 years. SOURCE (Shoresh in Hebrew) was founded in 1989 by Yoki Gill and Daniel Benoziliyo and now employs more than 200 workers. It has always been a ground breaker in hydration and sandal technology and is well known in the Tactical Gear, hiking sandals, hydration and travel accessories categories worldwide for over 20 years, currently selling in more than 25 countries, including the United States, Canada, United Kingdom, France, Germany, Switzerland, Australia, South Africa and many more.
Source Firefly iVis Hydration Pack Orange, 2L