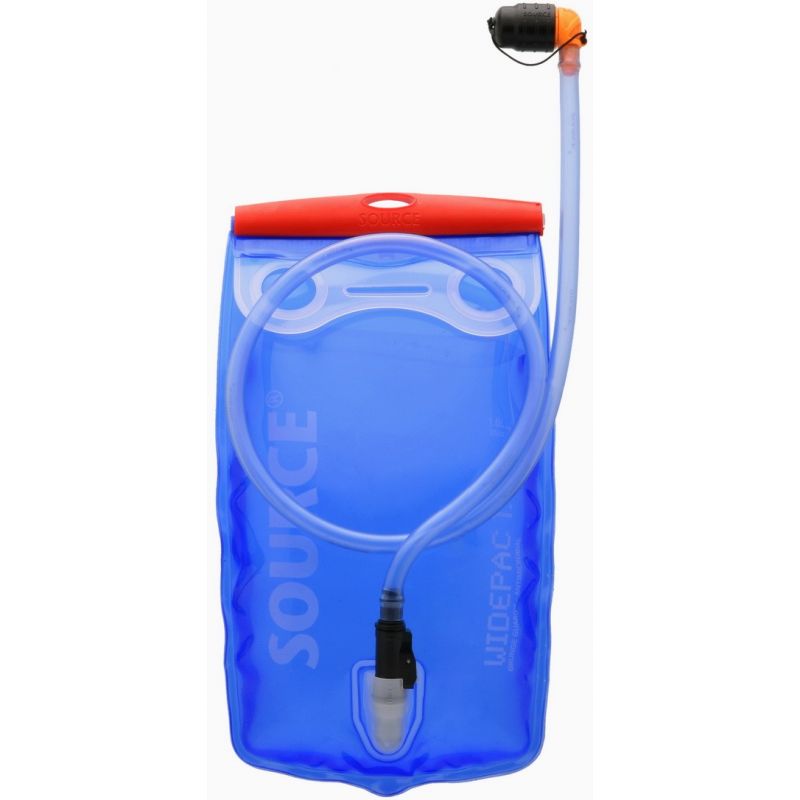 We are now shipping to all ALL ZONES across India. Further, NO DELIVERY is permitted in CONTAINMENT ZONES as of now.
About Widepac™ Hydration System
Hydration is one of the most important factor for an outdoorsy, when you're far away from comfortable water source(tap water), when you're lost in the jungle, when you're amidst an endurance challenge, think GoRuck. With all these circumstances, with all these challenges thrown in, it's quite cumbersome a task to find the best hydration backpack that actually works.
Lauded with positive reviews, Source Widepac hydration pack offer proper hydration for cycling, trekking, endurance tests and more, no matter how gruelling environment they're tested in. Talking about the features, Source Widepac has brought the freshest water source right when you need it. It's user-friendly slide closure is wide enough to fill, clean, drain and even ice insertion.
With its airtight seal, you can forget about your hydration source and concentrate better on other important matters like living in the moment, enjoying the outdoor experience.
With its Glass Like Film Technology, Source Widepac hydration system allows no residue to build up on the inside of the Widepac glass like film which make it easier to maintain.
Taste Free System ensures no smell formation even after storing water for days, even weeks. The water stays fresh, odour free unlike what you usually notice in your pet water bottles. Source hydration system allows no bacterial growth on the reservoir and drinking tube surface making it a virtually self cleaning system.
Source hydration backpack system is easier to clean and can last a decade even on a fairly low maintenance. With it's wide slide, it's easier to fill and refill and clean without having to follow any tantrums to clean and make it ready for your next big event. Refill it from pond or lake or wherever you're about to satiate your dehydrated self, Source Widepac allows simple attachment of filters and valves and other hydration accessory to filter and clean it close to the next potable water source available.
And you don't have to suck hard on the mouthpiece open valve to hydrate yourself in the middle of the gruelling cycling event, just a gentle pressure is more than enough to have a clear, taste free supply of water. Shut the closure to make it leak free after use. It's hard to anticipate the nature of endurance event you're about to participate in, but with Source hydration system, treat yourself with a clean supply water free from dirt, sand and dust.
With all these properties, Source provide long distance cycling hydration system at an affordable price. It's a no-brainer to get one to enjoy all outdoor, gruelling events with ease. And hydrated.
Top Features
Source WidePac Hydration system is easier to clean, fill, refill, maintain.
Stored water in SOURCE hydration system stays fresh in taste.
Inhibits bacteria growth on the reservoir and drinking tube surfaces for the life of the system
Requires no special care. Just refill and drink again and again.
Helix Valve promise high flow with a gentle sip. It's leak free as well. Dirt shield valve cover protects the valve from dirt, sand and dust.
Material
Triple layer taste and odor free PE film with anti microbial agent
Co-extruded tube
PP, PE & POM injected plastic parts
Silicon mouthpiece
Specification
Material - Triple layer taste and odour free PE film with anti microbial agent. It actually means clean and fresh water for you.

Co-extruded tube. At your behest, enjoy the clean water with just a gentle pressure(suck) on mouthpiece valve.

PP, PE & POM injected plastic parts.

Silicon mouthpiece.

Widepac Dimension

1.5L/50oz 18.5cm x 32cm, 110g

2L/70oz 19.5cm x 35.5cm, 110g

3L/100oz 21.5cm x 42.5cm, 125g

About Hydration System
Hydration system is a must have biking accessories for longer rides or a sport which requires intensive efforts. A good hydration system is easier to maintain, easier to fill and empty, easier to carry without much hassle, carry ample amount of water(2 or 3L) and provide a hands-free convenient valve to drink from. Some hydration systems are pouched inside a bag which may or may not be reflective in nature(as you go up the price range), comes with pockets to carry spares and energy bars and money and other essential items. Hydration System allows outdoorsy to indulge in the game completely yet keeping his/her hydration needs fulfilled.
About SourceOutdoor
SOURCE is a groundbreaker in Hydration Systems and Sandals technology and is well known for tactical gear, hiking sandals, hydration and travel accessories for over 20 years. SOURCE (Shoresh in Hebrew) was founded in 1989 by Yoki Gill and Daniel Benoziliyo and now employs more than 200 workers. It has always been a groundbreaker in hydration and sandal technology and is well known in the Tactical Gear, hiking sandals, hydration and travel accessories categories worldwide for over 20 years, currently selling in more than 25 countries, including the United States, Canada, United Kingdom, France, Germany, Switzerland, Australia, South Africa and many more.
Source Widepac™ Hydration System, 1.5L